White Plains School District Picks Next High School Principal
We are part of The Trust Project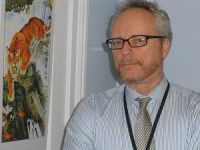 White Plains High School will have a new principal next year, as the district chose John Jay Principal Ellen Doherty for the position beginning next school year.
Her appointment was on the agenda for Monday night's White Plains City School District Board of Education meeting – the meeting took place too late for this edition, but she was widely expected to be appointed.
"I think she's going to be a great addition to White Plains," Schools Superintendent Christopher Clouet said.
Diana Knight, previously the principal at Highlands Middle School, has been serving as the high school's interim principal for the past two school years. She will be retiring at the end of the year, and the district has been looking for her replacement, Clouet said.
"Over the last couple months, we've done a whole advertising process and meeting with candidates," said the superintendent. Dozens of people applied for the position, he said, while about six were interviewed.
Before choosing Doherty for the position, Clouet said he and school officials visited John Jay in North Salem to see her in action.
"People really liked her," said Clouet. "People are really impressed with her skills, her intelligence, her communications skills."
Clouet also praised the job done by Knight in her two years at the high school.
"She's done an absolutely wonderful job for the district. She has improved the climate at the high school," he said. "She'll be missed."
Doherty, who has been principal of John Jay since 2008, previously served at District Director of Special Services in the Katonah-Lewisboro school district. A Cortlandt resident, she holds a bachelor's degree from Purchase College in Literature and a master's degree from New York University in Social Work. The three-year probationary appointment begins July 1.