White Plains Religious Leaders Stand United Against Heritage of Hate
We are part of The Trust Project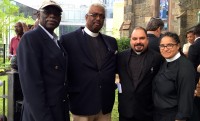 A gathering of White Plains Religious Leaders stood on the steps of Grace Episcopal Church Friday to read a Statement of unified response to the KKK Rally in Charleston, SC to be held the following day in protest of the bringing down of the Confederate battle flag at the South Carolina State House.
The letter, signed by 21 church leaders, representing numerous religious communities (including Christian, Jewish and Humanitarian traditions), is a major step forward of a growing interfaith movement in White Plains, which until recent shootings involving the deaths of numerous black congregants was represented mainly by white clergy of traditionally white congregations in White Plains.
That group released a statement to show support of their African-American friends, colleagues and congregations.
The statement acknowledges the right of the KKK to assemble and voice their First Amendment Rights. Yet, it says: "At the same time, we speak with a unified voice of our opposition to the heritage of hate, slavery, and treason that this flag represents. We also reel from the hurt and emotional pain that this flag symbolizes to our African American friends and colleagues and therefore will not be silent."
During the gathering Rev. Dr. Gregory Robeson Smith, Pastor of Mount Hope A.M.E. Zion Church said that it was not enough to just dialog, that the various religious communities within White Plains had to begin celebrating and working together.
"The bringing down of the Confederate battle flag is an important symbolic gesture," Rev. Smith continued. "But fundamental structural changes have to be made." One example is a review of the criminal justice system. "The lynching tree is still there," he said.
Rev. Smith also noted that while the flag was taken down, voting rights had not improved in South Carolina and he rhetorically asked the South Carolina State Governor what she intended to do about that.
The letter read: "…racism must be undone through our work of building authentic community. It is in the hard work of relationship-building that we begin to undo the destructive systems that were built so long ago."
In saying this the White Plains Religious Leaders commit to several actions.
The first was to take up a special offering on Sunday, July 19 for the African American churches that have been burned due to arson attempts. The congregations will then begin participating in a citywide pulpit exchange this fall between traditionally white and African-American Christian churches in White Plains.