White Plains Rec Softball Wrap-up
We are part of The Trust Project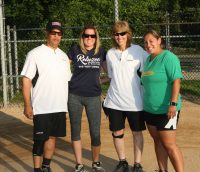 6th Boro Keeps Winning, Brewskies and Healy Stay Tied and Sprint Undefeated
As the White Plains Recreation Softball Summer League teams begin to sort themselves out for league championships and playoff contention, a few things remain constant.
Sprint is attempting to runaway with the Co-ed B Division, while as of Monday, July 20, the team assembled of men and women has an undefeated record of 11-0 and is in first place with a three game lead.
On Thursday, July 21, the rain gave the Men's A Division and Women's League a break to play, after two weeks of rainouts. 6th Boro beat Reptar, 17-16, on a walk-off double by Manager Johnny "Fitz" Fitzpatrick in the bottom of the last inning. The 6th Boro victory keeps the new entry this year on top of the Men's A Division with a record of 10-2. Reptar remains in fourth place with a 7-8 record.
Nonetheless, nothing is certain in the very competitive Men's A Division, as the top three teams are separated by only two games. On Thursday, in the second game on Carl J. Delfino Park Field 1, Mansion on Broadway won a crucial game against Riemann's Auto Body, 19-6, as the Mercy Rule was implemented after the fifth inning.
The win puts MOB in a tie for second place in the Men's A with Riemann's, which both have 9-4 records.
Riemann's Angelo Devita and Mansion on Broadway's Mike "Zambo" Zambernardi are both top-notch pitchers, which will definitely keep both teams in contention for the League Championship. Conversely, four of Riemann's top players from last year's team have moved to this year's new Men's A team 6th Boro.
In all truth and honesty, with Johnny Fitzpatrick, Bobby Russo, Nick Parente and Steve Gallela switching affiliations from Riemann's to 6th Boro, this unequivocally gives 6th Boro the edge to win the Men's A League Championship.
However, anyone who follows White Plains Men's Recreation Softball is quite aware that this time of the season usually belongs to Mansion on Broadway, which has consistently over past summers made late regular season pushes. "In this league the entire goal is to get to the playoffs and be playing your best softball at that time," said MOB Manager and outfielder Joe Pasqualini. "Ideally we would love to get the one seed but the best thing for us right now is to play our best softball because we know we have that Championship pedigree."
In the Women's League, Healy Electric and Brewskies are tied in first place at 9-2 and are starting to separate themselves from the pack. Buffalo Wild Wings (6-3) is in third place but they hurt their chances to stick with Healy and Brewskies after being upset by fourth place Specs Tators, 7-6, on Thursday.
Healy with Lauren O'Connor and their combination of three different sets of sisters, Jackie and Lindsey New, Gina and Amanda Gonzalez and pitcher Kate Fox and her sister Kelly beat Reluzco Roofing and Siding, 3-1 on Thursday.
Noting that Reluzco has only one victory so far this season, the score of the game was a little closer than Healy Manager Jackie New anticipated. "Yeah, we did not hit today, there was not a lot of running going on, but that's alright, we will get the bats going next week," commented New.
Summer Softball League teams that finish the regular season in first or second place in all Leagues will get byes in the First Round of this year's Playoff Championship. The first place finisher in the Women's League wins the League Championship. In the Men's and Co-ed Leagues, the first place finisher of each Division wins that particular Division's League Championship.
Nonetheless, despite what any softball team member may express to you; it is nice to get the one seed and win the League Championship. But it is the Playoff Championship Trophy, which is the coveted jewel of White Plains Recreation Softball.