White Plains Public Library "Breaks Ground" on The Edge for Teens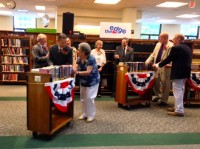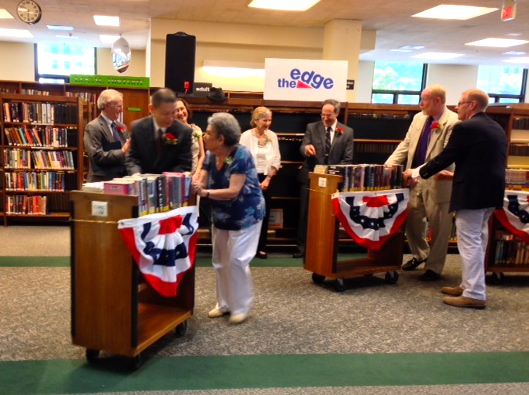 White Plains Public Library staff, board members and financial donors began the work of renovating the first floor of the library at 100 Martine Avenue by "breaking ground" on the area that will become The Edge for Teens. A symbolic moving of books on carts marked the beginning of deconstruction.
As Phase One of a project that will eventually re-do the entire first floor of the library, the new teen zone will provide a place for students who have outgrown the Trove children's library. A media lab, mixing area and living room will be set aside just for use by teens in a 3,000 square foot space.
In the media lab students will be able to use digital media equipment and collaborate with friends on projects. When the teens are in school, adult computer classes will be offered.
The mixing area will provide computer work stations and study areas for individual and group work, and the living room is intended to be a casual space for watching videos, playing games and attending programs and performances.
Further phases of the reconstruction will include development of study rooms and a tutoring alcove and a technology hub with computer desks.
Phase Three will offer a café, magazine lounge and bookstore operated by the all-volunteer Friends of the Library.
White Plains residents Nick Wolff (White Plains Library Foundation) and Paul Schwarz (chair of the Library Board), who had grown up with the library, were excited to see the changes they had dreamed of and worked for finally begin to come to fruition.
White Plains Mayor Tom Roach, who also grew up in White Plains said there is still a place in a technological world for books and that even though he is a virtual user, taking out e-books regularly, he finds great comfort in the storytelling.
The Edge for Teens is expected to be complete by November this year.
New York State Assemblyman David Buchwald (D-White Plains), who was present at the morning's festivities, released a statement with the White Plains Library Foundation Monday afternoon that announced the library will receive $79,317 in public library construction grant funding. The funding will go toward  construction of The Edge teen space.
The reconstruction project is a public/private partnership between the City of White Plains and the White Plains Library Foundation. The cost of Phase One of the renovation of the first floor is $1.8 million. The White Plains Library Foundation contributed $400,000 and the State of New York provided $79,317. The remaining funds came from the City of White Plains.
Brian Kenney, Director of the White Plains Public Library, said. "It's essential we provide our youth with a place to turn to after school in order to cultivate their interests using up-to-date, innovative technology. This funding will help us. We greatly appreciate Assemblyman Buchwald's responsiveness to see these grants are carried through."
Assemblyman Buchwald helped increase public library funding by $4.2 million in this year's state budget and recently teamed up with area schools to promote summer reading by issuing this year's Assembly Summer Reading Challenge. Schools were provided materials to help encourage young students to continue reading throughout the summer in order to keep their reading skills sharp for the start of the next school year.