News Based on facts, either observed and verified directly by the reporter, or reported and verified from knowledgeable sources.
White Plains, Panas, Put Valley Bound for NYS Final 4
We are part of The Trust Project
By Tony Pinciaro
Three Examiner-area teams are bound for Troy this week, making their move to their respective NYSPHSAA Final 4's at Hudson Valley Community College, including Class AA White Plains, Class A Walter Panas and Class B Putnam Valley.
CLASS B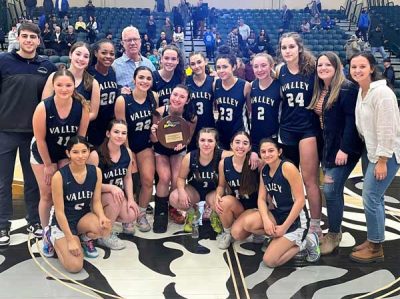 Following the first quarter of its New York State Class B regional final, PUTNAM VALLEY found itself in an unfamiliar position. The Tigers trailed Section 8 champion Locust Valley by 10 points after the first quarter. Prior to this, Putnam Valley last faced a deficit in its lone loss of the season to John Jay-Cross River.
Instead of panic setting in, Putnam Valley Coach Don Hamlin settled his team down and asked them one question.
"Coach asked us if we were ready to play and we said we were ready," said junior Nai Torres, who picked up two quick fouls in the first quarter. "We knew we still had a whole game to play. We just had to pick up our intensity."
Not only did the Tigers prove they were ready to play in the second quarter, they seized the momentum and never looked back.
Eva DeChent and Torres each scored 20 points as Putnam Valley erased Locust Valley, 51-37, in a New York State Public High School Athletic Association Class B regional final at Farmingdale State (L.I.)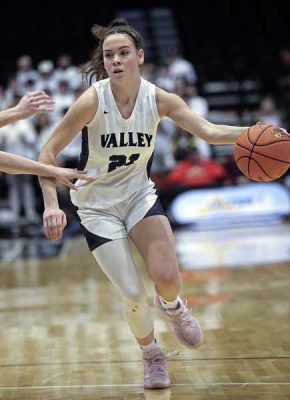 The state-ranked (No.2) Tigers (25-1) advance to the final four at Hudson Valley Community College in Troy for a second consecutive year. Putnam Valley will play No.3 Albany Academy for Girls (Section 2), Friday, March 17, 11:45 a.m., in one semifinal. State-ranked (No.6) Waterloo (Section 5) plays No.9 Cortland (Section 3) in the other semifinal. The semifinal winners play for the title, Saturday, 5:15 p.m.
Hamlin is aiming for his second state title. He guided the Briarcliff girls to 2008 state and federation championships. Torres and DeChent had two fouls apiece in the first quarter and Locust Valley capitalized on it. The game would take a dramatic swing in the second quarter as the Tigers closed with a 19-0 run and also held Locust Valley scoreless.
"Brianna (Foody) was guarding their point guard, forcing her to her non-dominant side and I was denying their second-best player," Torres said. "We felt if we stopped their point guard, they wouldn't be able to run their sets."
Torres' defense led to her offense, but only after she made an adjustment. Torres explained her outside shot was not working so she became aggressive.
"Because my outside shots weren't falling for me, I was taking the ball to the basket and getting fouled," Torres said.
Torres was also happy that she regained her scoring touch after what she called a rough two games against Westlake (sectional final) and Red Hook (regional semifinal). She explained she was not taking good shots and she was getting frustrated on the offensive end against Red Hook.
Putnam Valley enjoyed the regional final win, but the Tigers quickly turned their attention to the state final four. Torres recalled Putnam Valley's 2022 state semifinal loss to Waterloo.
"I think we needed more players to step up last year," Torres recalled. "Eva and (graduated) Amanda (Orlando) were doing their part. I've spoken to Eva about it. Last year, I don't think I prepared myself well. This year we will be ready. We can't go back and lose in the same place. Eva agreed that this year has to be different. Even after winning the gold ball we knew that we had a bigger goal in mind."
CLASS A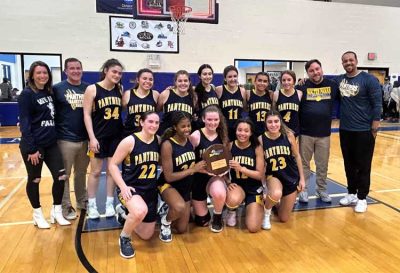 WALTER PANAS entered the 2023 New York Public High School Athletic Association Class A Girls' Basketball Championship as a rookie, but there were no nerves or jitters.
Instead, the Panthers dominated Section 4 champ Union-Endicott, 66-29, in Wednesday's regional semifinal then booked their ticket to the state final four with a 62-49 triumph over Wallkill (Section 9) Saturday.
State-ranked (No.11) Panas (21-5) will be making the first NYS Final 4 appearance in program history when it plays state-ranked (No.2) Averill Park (Section 2) in a semifinal, Friday, 3:15 p.m., at Hudson Valley Community College in Troy. No. 6 Canandaigua Academy (Section 5) and No.7 Manhasset (Section 8) will square off in the other semifinal with the victors set play for the championship, Saturday, 7 p.m.
"I think that was beneficial to have that first game because we had such good energy, played so well as a team and all of our bench players got in the game which was important for the first game in state playoffs," said senior and captain Kelsey Cregan. "That gave us confidence that we can compete in the state tournament and not just the section."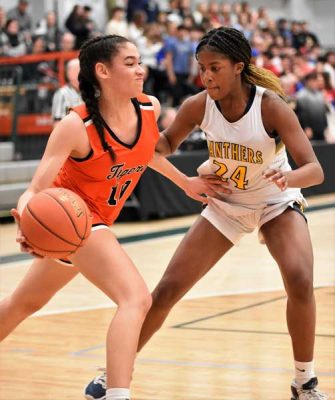 Despite a strong first half against Wallkill, led by Cadence Nicholas' scoring, the Panthers held a four-point at halftime, 33-29. However, a few adjustments by Panas Coach Matt Evangelista enabled the Panthers to settle in and gain control with Nicholas dropping a game-high 30 points in what might have been the best performance of her young, budding career.
"Cadence was other-worldy," the coach said.
"The first half was a competitive, high-energy, even game," said Cregan, who had 12 points and 12 rebounds. "In the second half, the biggest adjustment was not rushing on offense. Part of our issue in the first half was that we were rushing things and forcing it to places that weren't working. In the second half we played more calm and collected on the offensive side and we kept the pressure up on our press. We got a lot more turnovers which led to our offense."
Earning a berth in the state final four has been an added bonus for Panas.
"It doesn't really feel real," Cregan said. "We all had confidence in ourselves that we could win the section and never really thought this far ahead. Our main goal was to win the section, going to the state final four is just surreal."
Cregan and her teammates did not have to look far for a scouting report on what to expect at the final four. Senior Julia Gallinger, who grabbed 10 rebounds against Wallkill, played on the volleyball team that reached the 2022 state volleyball final four. Gallinger has already briefed the team on what to expect.
"Julia described it to us as being the best weekend and experience of her life, so far," Cregan said. "From the way Julia's been describing it, we're very excited.
"Julia, as a captain, is one of the people on the team who can keep everyone calm. It's also a plus because Julia has experienced it before."
CLASS AA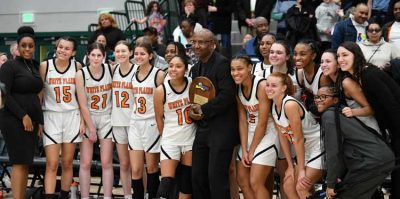 After winning the Section 1 Class AA Girls' Basketball Championship, WHITE PLAINS earned a bye into the regional final. The state-ranked (No.10) Tigers used the bye to their advantage in preparation for Section 9 titleist Monroe-Woodbury and it resulted in a lopsided 51-29 victory at Yorktown High School.
White Plains (22-3) booked its ticket to the state final four where it will face state-ranked (No.7) Liverpool (Section 3), Friday, 3/17, 8 p.m., at Hudson Valley Community College. The other semifinal is No.4 Webster-Schroeder (Section 5)/ No.9 Baldwin (Section 8). The winners play for the championship, Saturday, 8:45 p.m.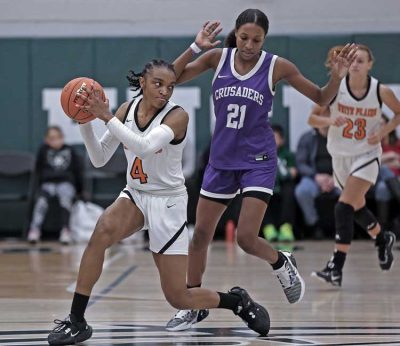 "We came off the big win, so Monday was kind of chill at practice," senior Capri DeMara said. "Tuesday, nobody was feeling good so we didn't have practice. Wednesday, Thursday and Friday we were focused. We watched film Thursday on Monroe-Woodbury. We focused on their two best players and ball handlers, so we wanted to make them tired. We came in a straight man with Aliya on No.11 and Ineivi on No.3."
One constant for White Plains this season has been its defense. The Tigers regularly limit teams to 40 points or less. Their best defensive showing of the season came in the Section 1 Class AA final when the Tigers held Albertus Magnus to just 37 points. Albertus came into the Class AA final averaging 63 points-per-game.
"Even when our offense doesn't come, we know we have a good defense," DeMara said. "Our defense forces teams into making mistakes. We've focused so much on defense and that's helped us come so far."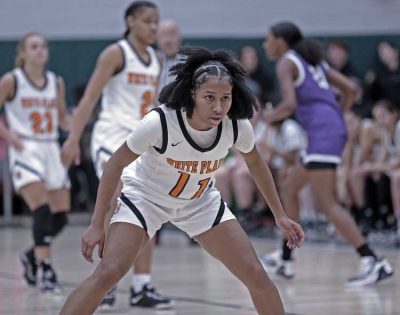 DeMara provided instant offense off the bench with a game-high 19 points. DeMara started throughout the season, then sustained an injury in the regular-season finale. She missed the sectional first-round game and saw limited time the next few games. However, DeMara did not sulk and continued working hard.
"India (Newman) came in for me and she's done a really good job," DeMara said. "When I go out there I feel I have something more to prove, so that makes me want to work harder.
"I'm so used to being with the starting five that when I come in, I'm still with the starting five."
DeMara will look to continue her offensive, as well as defensive contributions, at the final four.
"This is so exciting," said DeMara of the final four. "This is the year to see how good we are and what we can do. We're making history."
– Sports Editor Ray Gallagher contributed to this story.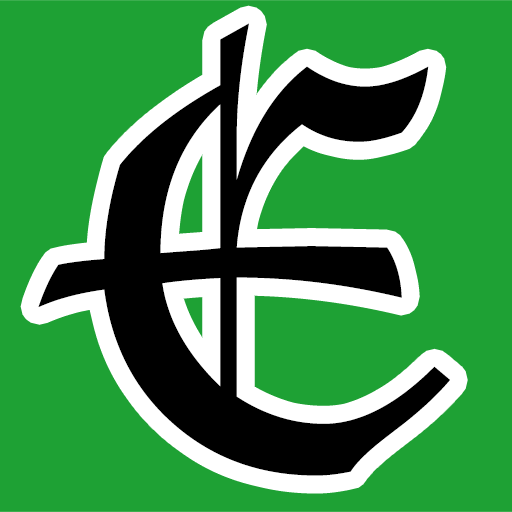 Examiner Media – Keeping you informed with professionally-reported local news, features, and sports coverage.