White Plains Native Attends Trump's Congressional Speech, Advocates for ACA
We are part of The Trust Project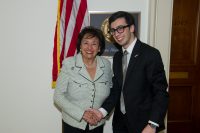 While most of the country viewed President Trump's speech to a Joint Session of Congress last Tuesday on TV or other media devices, one White Plains native was attentively listening live, in the gallery in the Capitol Building.
His name is Noah Buyon, a 22-year-old student at Georgetown University and former intern at Congresswoman Nita Lowey's office in Washington, DC. He was Lowey's guest for the evening and he was there to bear witness and hear first hand about the President's plans to repeal the Affordable Care Act (ACA).
Buyon told The White Plains Examiner on Tuesday afternoon, before the speech, that he was hopeful and his enthusiasm for a future career in journalism was apparent by the way he spoke.
Buyon suffers from Crohn's Disease, a condition that is not curable, but which can be controlled by the very expensive drug – Humira. A one-month supply costs $2,362.
Currently, Buyon is covered by his parent's medical insurance, but he is concerned that if the ACA is repealed, when he turns 26 he will not be able to secure insurance coverage because of his pre-existing condition.
What worries Buyon most is that because he lives with Crohn's Disease, he will be forced to pursue employment where he will be able to receive adequate health insurance coverage, moving from job to job for that reason alone, and not pursuing the career for which he has trained.
Crohn's Disease is among the conditions that were likely grounds for being denied health insurance before the ACA was enacted.
"It's a quality of life issue," Buyon said. "The ACA has become political. I hear Republicans like Paul Ryan talking about a replacement plan that will keep protections in place, but until we see the details of that plan, we just don't know. What I worry about is the gap between words and deeds."
Buyon's mother, Julie Buyon, who resides in the Prospect Park neighborhood of White Plains, is a professional health advocate, a position she found herself drawn to because of the medical and health needs of other people in her life who were faced with life-limiting illnesses. Now, she is aggressively advocating, along with her son, for maintenance of provisions in the Affordable Care Act.
"What most people don't realize, is that there is an economic aspect to this issue, Julie Buyon explained. "When a 26-year-old is cut off from contributing to the economy, it's a big deal. Many Millennials are involved in start-ups and non-traditional jobs that don't offer health insurance. When they graduate from college, the clock starts ticking and it's like being told you have four years to explore the world (before you reach age 26) and that's it. Is this how we would treat a Bill Gates or Steve Jobs today?"
And, while many Millennials are being hired into high-tech jobs and many of those are in the pharmaceutical and medical-tech industries and there are wonderful medications like Humira out there, the costs can be prohibitive. "Humira is one of the world's best-selling drugs and it still sells for almost $2,400," Julie Buyon said. Not all Millennials are earning the big paychecks we so often hear about.
She agrees that the ACA needs to be tweaked, but feels that the politics in the U.S., especially regarding the pharmaceutical companies, is a big part of the problem. "We don't negotiate drug prices very aggressively," she said.
Another aspect of the ACA that Julie feels strongly about is the need to shift to preventive healthcare because treatments and procedures are very expensive. "That's another economic aspect," she emphasizes. "One common disease in the U.S. today, Type-2 Diabetes is expensive to treat and affects people's mobility and their ability to work. If you have an unhealthy population, you have an unhealthy workforce."
After Tuesday night's speech, Noah said he still had hope and was happy to have met big names like Nancy Pelosi, Elijah Cummings, and Tom Perez, the new Democratic National Committee chair. "They all expressed a readiness to fight for people like me. But the president said in no uncertain terms that he and his party have the Affordable Care Act in their crosshairs. While he promised that folks with pre-existing conditions like me would have access to coverage post-repeal, he wasn't particularly forthcoming with details. That doesn't exactly inspire confidence," Noah concluded.
Earlier this month, Congresswoman Lowey was joined by constituents from Westchester and Rockland, medical providers, hospital administrators and advocacy organizations at White Plains Hospital for a roundtable discussion on the effects the proposed plan to repeal the Affordable Care Act might have on the Lower Hudson Valley. They determined that repealing the ACA might strip insurance coverage from 2.7 million New Yorkers, including over 130,000 in Westchester and Rockland. New York State could lose 130,700 jobs and approximately $3.7 billion from its budget. Westchester and Rockland would lose $19.1 million in federal funding that goes directly to counties.
The American Health Care Act was presented by Republications to Congress Monday  as a replacement for Obama's Affordable Care Act.