White Plains Mayor Secures Independent Review in Chamberlain Shooting
We are part of The Trust Project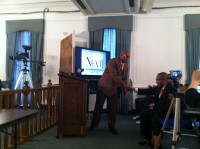 At the request of Mayor Tom Roach, the White Plains Common Council voted Monday evening to make funding available for consulting services to conduct a review and analysis and provide a report relating to police policies, practices and procedures in the city. The action was requested directly following the Westchester County grand jury determination not to pursue criminal charges against White Plains Police Officer Anthony Carelli for the November 19 shooting and resulting death of Kenneth Chamberlain Sr., in his home at the Winbrook housing community on South Lexington Avenue.
During the Citizens To Be Heard segment before the regular meeting, members of the African American community in White Plains and their supporters packed the room. Kenneth Chamberlain Jr. asked the mayor and council to suspend all the officers involved in the incident pending the outcome of a federal criminal investigation initiated after the county decided not to pursue charges. "A lack of a criminal indictment sends a message to the minority communities of this city," Chamberlain Jr. said. "The use of city funds to pursue an independent investigation is not enough."
Members of the African American community in the room had also come to support White Plains Police Officer Michael Hannon, who asked for disciplinary action to be taken against White Plains Assistant Police Chief Ann FitzSimmons, Hannon's boss, who allegedly threw a chair at his back causing injuries at the White Plains Police Station last September. The Westchester County District Attorney's office determined not to press charges against FitzSimmons and the White Plains Police Department did not conduct an internal investigation.
Officer Hannon described the ongoing pain of his injuries, the loss of three months of work and five months of physical therapy. "During my time out of work I was never contacted by any city of white plains administration official or any city of white plains official in regard to the incident or the status of my recovery. I do not only blame Ann FitzSimmons, assistant chief of police, I also blame all those who sanctioned her behavior by refusing to investigate. I am now embarrassed to wear the shield of the White Plains police and it is due to the way upper management handles various issues," Hannon told the mayor and council.
A gathering of pastors at the podium, from churches in the White Plains African American community, brought a show of solidarity for both Chamberlain Sr. and Chamberlain Jr., as well as Officer Hannon. They called both situations morally unacceptable. Referring to a particular racial slur used by at least one police officer during the events that lead up to Chamberlian Sr.'s death on November 19, they said the use of hate language in some communities is considered a hate crime. And they asked: "What right does a citizen have in his or her own home?" They blamed the officers on the scene for escalating the situation, treating Chamberlain Sr. like a trapped animal.
Mayor Roach said he will enter into an agreement with a dean at John Jay College who will have a panel of law enforcement experts to review the policies and procedures of the White Plains Police Department – recruiting, hiring, training, dealing with emotionally disturbed persons and other issues. "That report will be prepared and presented directly to me and will be shared with the Council and with the public when we receive it. As with anything else we do in this city, we are always looking for ways to do things better and when we have a tragedy such as we suffered I think it is important that we take a look at the way we do things and be sure we are doing them well," Roach said.