White Plains Loses Football Season Opener at Carmel, 39-24
We are part of The Trust Project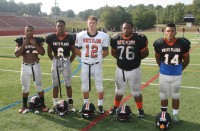 The White Plains High School Varsity Football Team started their 2015 season on a losing note. The Tigers lost to Carmel High School, 39-24, as Rams quarterback Joe Rodriquez completed 8-of-13 passes for 128 yards and two touchdowns. The Tigers were also exploited on the ground, while Carmel running back David Vega rushed for 148 yards and a touchdown.
The Tigers are seeking to improve on a 2-6 record from last year. "We did not have a good season last year. We were aware that we were rebuilding from the year prior. But this team gets along really well. Their camaraderie reminds me of the team two years ago when we made that run (to the Section 1 Championship)," said Tigers Head Coach Skip Stevens, who is beginning his 11th year at the helm.
White Plains is led by senior quarterback Tommy Avery, whose father Jim Avery and his brother Kevin Avery are both Tigers Assistant Coaches. "Tommy had a great off-season. He had a great year last year, which was one of the bright spots on the team. We are expecting good things from him again this year," said Stevens.
Tommy Avery's older brother Jeff is also a former Tigers quarterback, who graduated in 2012. Jeff Avery is presently a senior at Rensselaer Polytechnic Institute and is the starting quarterback and a Team Captain for the Engineers.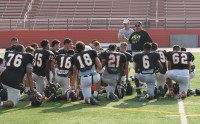 Avery will look to hook-up in the passing lanes with senior wide receiver Donovan Brunson and senior Matthew Scotman in the slot position. Scotman is the son of Tigers Assistant Coach Paul Scotman. Also, senior Braxton Gill and junior Tyger Winston will offer Avery receiver options.
"I feel a lot better than last year. I feel ten times more confident and ready to lead this team back to where it needs to be," commented Avery.
A major plus for the Tigers this season is their offensive line. The Tigers bring back their entire offensive line except for center David Ventura, who graduated in June. Ventura has been succeeded by junior center Andrew Sandberg.
Running behind the veteran offensive line will be senior running back Chris Schiavone and senior tailback J.J. Hernandez, with Brunson joining the running-backs by committee. "I think we will be more by committee in the back-field this season in order to keep our players rested," emphasized Stevens.
Stevens has high hopes for his defense despite them giving up 39 points to Carmel Friday. Seniors Schivaione, Brunson and Scotman will lead the defense, when playing on the other side of the ball, as middle linebacker, corner-back and free safety respectively.
"Defense is much faster than I thought it would be at this point and time," said Stevens, at practice, on Wednesday, Sept. 2. "They are smart players who work hard and rally to the ball," he said.
Scotman is especially looking forward to the 2015 season, after breaking his ankle last year and missing the entire season. "I am happy to be back on the field and excited to play. On defense we just want to make stops and be great tacklers," said Scotman.
The Tigers will get another opportunity to prove themselves and this time in front of their hometown crowd, when they host North Rockland High School, in their Home Opener, at White Plains High School, on Saturday, Sept. 12, at 5:30 p.m.