White Plains Hosts National Night Out
We are part of The Trust Project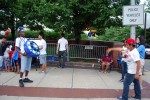 In what Public Safety Commissioner David Chong called the biggest crowd the event has seen, more than 1,000 people from across White Plains came to Lexington Avenue last Tuesday for the 29th Annual National Night Out.
Visitors at the event had the chance to mingle with their neighbors and meet members of the Department of Public Safety, which includes the police and fire departments.
"National Night Out was outstanding. It was a very big success," Chong said afterwards. "It was the largest one we've had to date. This one was my third annual one and it gets bigger every year."
Approximately 1,200 people stopped by over three hours Tuesday evening, according to Chong, an increase over around 1,000 last year.
A national initiative established in 1984 by the National Association of Town Watch, a crime prevention organization, National Night Out is aimed at establishing partnerships between residents and law enforcement while strengthening communities.
Local community organizations were represented at informational tables at the event, which was held outside public safety headquarters. Officers showed visitors the importance of wearing their seatbelts in a "rollover simulator," in which dummies were thrown from a model car in a simulation of a rollover. Children had the chance to pet llamas and play on fire trucks, while the city's showmobile was brought in as a stage for live music.
"It really showed that White Plains is a community that's interested in safety and interested in a high quality of life," Chong said. "It really showed it because of all the participation we had on National Night Out."
Nationally, more than 15,000 communities in all 50 states take part in National Night Out, with close to 40 million people participating.