White Plains Hospital Cuts the Ribbon on a New Entrance and Lobby
We are part of The Trust Project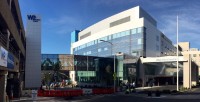 It's bright, it's modern, it's inspiring and it's designed to be the gateway to an evolving new White Plains Hospital campus.
The ribbon was cut Monday morning on the new hospital lobby, which some are calling the lobby of "the hospital for the future." Taking its cue from the Hospitality industry the new lobby features interior design by Perkins Eastman, with 25-foot glass walls, a floating staircase, and a café run by New York Hospitality Group and White Plains' own Peter Herrero, owner of Sam's of Gedney Way.
"This lobby is not just an entrance to a new building, but the gateway to a new era for White Plains Hospital," WPH President & CEO Susan Fox  explained. "This is a major step in the redesign of our campus to better serve our community, bringing in more advanced services and an even greater focus on providing our patients with an exceptional experience."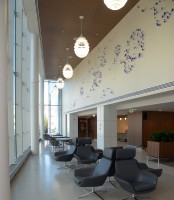 "This new facility was created with an architectural and interior design philosophy that started with a feeling of hospitality to provide a comfortable environment for patients and families," Fox continued. Its attractive, modern construction and design were specifically intended to inspire confidence by sending a message that patients, families, and visitors will receive technologically advanced care at White Plains Hospital. The lobby's 25-foot-high glass walls that bathe the interior with natural light, noise-quieting tiles and beautiful artwork are intended to help to offset the stresses that often go along with a hospital visit.
When visitors drive up to the lobby's Davis Avenue entrance, there is a new porte cochère to protect them from the elements. After drivers park in the hospital garage, they can cross over to the lobby using the J. Michael Divney skybridge, a glass-enclosed walkway named for the hospital's immediate past board chairman.
A newly planted streetscape is visible through the walls of windows and wooden planters are generously distributed throughout the lobby. Natural materials are used everywhere: wood flows from the building's exterior into the lobby and wraps into the entranceway. A walnut feature wall, terrazzo flooring, soft carpeting, comfortable seating, greenery, and noise-dampening ceiling tiles allow for quiet conversation and relaxation.
In addition, the hospital commissioned an art installation by New York sculptor Paul Villinski, whose soaring clusters of butterflies—forged from recycled cans—inspire feelings of beauty, hope, and renewal among those who view his work.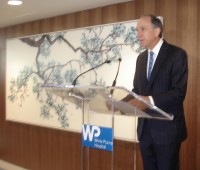 The new lobby also features the Everyday Healthy Café, with seating in the atrium. The concept was conceived by the hospital in conjunction with Peter Herrero. Everyday Healthy Café offers locally sourced fruits and vegetables, organic choices, freshly squeezed vegetable juices to order, and wraps. Visitors who want to pick up a gift will find items at the lobby's gift store, which will include wares made by local artisans.
White Plains Hospital will soon unveil the rest of the new, six-story building. On the third floor, surgeons will begin using five new operating suites that are specifically designed to bear the weight and size of highly advanced surgical equipment. The fourth and fifth floors will provide two dozen new private patient rooms, while the sixth floor will house a spacious maternity unit, with private patient rooms and expanded labor and delivery suites.
One of the last phases of White Plains Hospital's four-year capital transformation project will be completed late in 2015: a new 40,000-square-foot addition to the Cancer Center that will nearly double the space for the hospital's growing number of cancer experts, researchers and clinical trials. The lobby in the Cancer Center echoes the main lobby with floor-to-ceiling glass, natural earth tones, and greenery. Additional amenities, such as a water feature and library will be included.