White Plains Historical Society Honors Christine Roithmayr
We are part of The Trust Project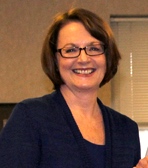 The White Plains Historical Society at its Annual Dinner will honor Christine Roithmayr as the Society's 2017 "Citizen Extraordinaire" Thursday, May 4, 6 to 9 p.m. at the Woman's Club of White Plains, C.V. Rich Mansion, 305 Ridgeway.
New York State Assemblyman David Buchwald will introduce Ms. Roithmayr at the award ceremony.
Ms. Roithmayr is being acknowledged for her outstanding work for the March of Dimes Birth Defects Foundation, as well as her charitable work as President of the Woman's Club of White Plains Foundation, her leadership of the '100 Acts of Kindness' volunteer projects and many other contributions in support of the White Plains community.
"We're glad to have this opportunity to recognize Ms. Roithmayr who has devoted a lifetime of positive, unselfish giving to our entire community and greater area," said White Plains Historical Society president John Vorperian.
The event will also have a multi-media presentation "Theodore and Franklin, New York's Royal Family – the Roosevelts" by St. John's University Professor Howard Ehrlich. A past Director of the Theodore Roosevelt Association, Professor Ehrlich has been directly involved with Sagamore Hill, the historic Long Island home of Theodore Roosevelt.
Catering will be provided by Caperberry Events of White Plains. Tickets to the Historical Society's Annual Dinner may be purchased online at www.whiteplainshistory.org.