White Plains High School Athletics Hall of Fame Class of 2017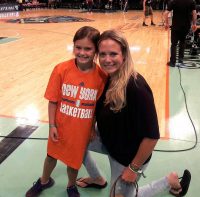 The Third Annual White Plains High School Athletics Hall of Fame Induction Ceremony will be held in the Media Center, at WPHS, on Friday, Nov. 3. The Tigers Athletics Hall of Fame Induction Ceremony is a free event and all family members of present and past inductees, as well as alumni, friends and interested parties are welcome to attend. The event will kick-off with a reception at 5 p.m. with the Induction Ceremony commencing at 6:15 p.m.
The White Plains High School Athletics Hall of Fame Class of 2017 will include 14 members. There will be two inductees from the well known Becerra Family of White Plains. The late Frank Becerra, Sr. ('45), the longtime and legendary illustrator, who was the chief artist and cartoonist for Westchester and Rockland Counties newspapers will be inducted posthumously this year.
Alongside him, his daughter-in-law Kristin Donahoe Becerra ('95), will also be inducted. Donahoe Becerra is the wife of Tony Becerra, the Head Football Coach at Pleasantville High School, who is the son of the late Frank Becerra, Sr.
"It is quite an honor to be inducted alongside my late father-in-law. Frank was the consummate sports fan. He appreciated the little nuances of sports and often captured those in his drawings," stated Donahoe Becerra.
Donahoe Becerra was a four-year varsity starter and two-year Team Captain for the WPHS Girls Basketball Team. She is a member of the 1000-Points Scorer society at WPHS. She was also a three-time All-Section and All-League selection. Donahoe Becerra also gained All-Section honors in Field Hockey. She was selected as the Tigers Outstanding Female Athlete in 1995 and continued her basketball career upon graduation, while playing four seasons at Division 1 Colgate University.
The Donahoe Family is also a longtime staple of the White Plains community with prestigious athletic pedigree. "My father along with my seven aunts and uncles all attended WPHS and were successful student athletes in football, track, basketball and field hockey. Once a Tiger, always a Tiger," pronounced Donahoe Becerra, who was nominated for induction by WPHS Athletics HOF Treasurer Sue Adams, of Tigers Girls Basketball fame as well.
Also being granted induction into the WPHS Athletics Hall of Fame, on November 3 are: Sam Bowers ('75), for football and basketball; Bill Cain ('66), All County center in basketball; Michelle Donnelly ('80), Cross Country and Track & Field; Ricky Edwards ('79), Section 1 Champion in the Long Jump and All County football player; Dick Gardella ('53), a former four-sport athlete for the Tigers, who played on three undefeated Tigers football teams (1950,'51 &'52). Gardella is presently the President of the WPHS Alumni Association.
Also receiving WPHS Athletics Hall of Fame status this year is: Jim Gray ('59), outstanding Tigers football player, who went on to play in the NFL with the NY Jets and Philadelphia Eagles. Gray is already a member of the University of Toledo Athletics Hall of Fame. Bob Horton ('60), will also gain induction this year. Horton, a star football player for the Tigers, went on to be a standout player at Boston College. He was drafted by the San Diego Charges in 1964.
Track & Field star Dave Jackson ('66), will return this year to accept his induction as an outstanding individual athlete for the Tigers. In 2016, Jackson was inducted, as part of the famed WPHS 1966 Relay Team. Jackson, as an individual, was a New York State Champion in the 100-yard dash and was a member of the Tigers Basketball Team, alongside his Induction classmate Bill Cain, who won the Section 1 Title in 1965-66.
Completing the list of 14 members inducted into the WPHS Athletics Hall of Fame Class of 2017 are Tigers alumni, Jermaine Johnson ('91), Frank Lyman (69), Lou Mark ('34) and John Messemer ('80).
For more information concerning the White Plains High School Athletics Hall of Fame, please contact Hall of Fame President Chuck Stogel, at: 914-428-6111 or e-mail: chstogel@aol.com