White Plains Gears Up for St. Patrick's Day Festivities
We are part of The Trust Project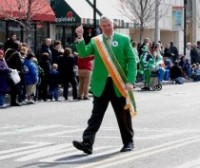 Celebrating the wearing of the green has been a longtime tradition in White Plains that begins with a bright green line painted down Mamaroneck Avenue along the St. Patrick's Day Parade route and continues until the last of the festivities occur after the official feast day on March 17th.
Saturday, March 8 marks the 17th annual White Plains St. Patrick's Parade, which begins promptly at 12 noon, beginning on Mamaroneck Avenue at Old Mamaroneck Road and ends at City Hall on Main Street, White Plains.
Mary Helen Jordan will be this year's Grand Marshal and lead the parade along with her aides, Kevin Dervin, Linda Devine, Tom Eaton, Sue Fuller, White Plains Fire Department Lt. Kevin Heffernan, and Christine Roithmayer.
As a second generation Irish American, Mary Helen Cronin Jordan has served as a dedicated volunteer in White Plains for more than 50 years.
She attended Our Lady of Good Counsel Academy where she discovered her love of volunteerism thanks to the Sisters of the Divine Compassion. Her work with cancer patients at Rosary Hill was especially fulfilling, and it served to direct her towards a life of community service and caring for others. A graduate of Manhattanville College, she married Jim Jordan of White Plains, and together they raised seven children in the Gedney Farms neighborhood.
Mary Helen was a Trustee of Our Lady of Sorrows Parish, and president of the OLS School Committee. She is an active Eucharistic Minister in the parish today, and orchestrates OLS efforts to bring food to the Open Arms Shelter and Grace Church Community Center.
As a volunteer and board member for Meals on Wheels, she has been delivering food to homebound White Plains residents for 30 years. For 28 years, she has led a contingent of volunteers who provide meals to the Sharing Community soup kitchen in Yonkers. She volunteers with Hospice and Palliative Care of Westchester and with Burke Rehabilitation Hospital, comforting the sick and bringing them Communion. An early advocate of S.H.O.R.E. (Sheltering the Homeless is Our Responsibility), Mary Helen has served as Board member, committee chair and volunteer for the group. She has also served as President of the Alumni Board of Manhattanville College.
Mary Helen Jordan is recognized by Good Counsel with its Wall of Fame Award; by Archbishop Stepinac with the Evangelium Vitae Award for public service; and by Manhattanville with a Distinguished Alumni Award and many more.
Following the parade, the local Irish establishments continue the fun with music and cultural food and beverage.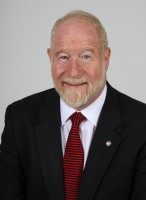 Later in the evening at 6 p.m., another White Plains tradition, The Friendly Gathering, an Irish dinner and sing-a-long, will be held at the Kearney Gym on Good Counsel Campus at 52 North Broadway, White Plains.
In its 25th year, this grass roots organization was originally founded to raise funds and support for organizations serving the community.
This year, White Plains Meals on Wheels and Nick Wolff, realtor and community advocate will be honored.
The event benefits the RDC Center for Counseling & Human Development, which for the past 23 years has provided affordable and compassionate counseling services and targeted outreach through special programs.
The Msgr. Ed O'Brien Community Service Award will be presented to Meals-on-Wheels, which since 1979 has been delivering meals to those in White Plains who are unable to shop and cook for themselves. The volunteer effort, which serves some 60 individuals daily, allows residents to live at home safely, independently and with dignity.
Named for a founder of the RDC Center for Counseling & Human Development, The Sister Joan Haley Spirit of Compassion Award will be presented to Nick Wolff, a life-long White Plains resident.  Mr. Wolff is a realtor whose civic leadership has helped enhance our community.  Over the years he has been involved in various organizations including the United Way, Thomas H. Slater Center, Rotary Club, El Centro Hispano and The Center for Literacy Enrichment.
"White Plains is a big city that feels like a small town thanks to organizations like White Plains Meals-on-Wheels and individuals like Nick Wolff," says Sr. Patricia Sheridan, Director of the Center for Counseling & Human Development. "The efforts of the dedicated MOWWP volunteers, many of whom have delivered hot meals and warm smiles for years, and the boundless energy of Nick Wolff benefit residents of all ages and all walks of life."
The Friendly Gathering features a corned beef and cabbage dinner, Irish songs and a performance by The O'Rourke Academy of Irish Dance.  There also will be a Live Auction for golf foursomes at Westchester and Bonnie Briar Country Clubs as well as other premium items.  Tickets are $45 in advance and $50 at the door; seniors are $35 in advance and $40 at the door.  Reservations are strongly encouraged. For reservations or more information, contact 914-798-1106 or rdccenter@optonline.net.