White Plains Forum Tackles Syrian Refugee Resettlement
We are part of The Trust Project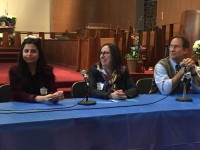 By Andrew Vitelli – While the country may be split over whether to accept refugees of the Syrian Civil War, the crowd last Tuesday at Memorial United Methodist Church in White Plains seemed united on the issue.
Close to 200 people packed the church for a forum on the Syrian refugee crisis, with speakers calling for the U.S. to welcome refugees from the war-torn country.
"This is the best thing this country does: Welcoming persecuted people from all over the world, helping them start new lives," said Chris George, Executive Director of Connecticut-based Integrated Refugee & Immigrant Services (IRIS). "It is incredible to me that it can become so controversial at a time like this."
George was one of three panelists at the April 5 forum, which discussed the harsh realities faced by Syrian refugees and the process for resettling them in the United States. Riva Silverman, Vice President of External Affairs at the Hebrew Immigrant Aid Society, described the process of screening Syrian refugees as being thorough and intensive and significantly more difficult than in Europe, where refugees often aren't screened until they've already reached a European country.
"The refugees who arrive in the United States, on the other hand, undergo extensive security vetting prior to setting food on U.S. soil," Silverman explained. "Refugees are subject to the highest level of security checks of any category of traveler to the United States, including those coming on tourist visas or student visas or work visas."
Sana Mustafa, the third panelist and a Syrian activist who came to the United States in 2013, described her families struggle since the Syrian Civil War broke out in 2011.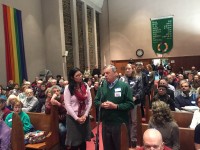 "When the Syrian revolution started, we felt that we were suddenly born again," Mustafa recalled. "We demanded freedom. We wanted to overthrow our government."
Mustafa's mother and two sisters were forced to flee Syria after her father, a political activist, was detained by President Bashar al-Assad's forces in July 2013, Sana said. Sana had been in the U.S. through a State Department program and, fearing for her life if she returned to Syria, applied for and was granted asylum.
"It's been 1,005 days and we don't know a thing about my dad," Mustafa said. "We don't know if he's alive."
Mustafa, who will graduate from Bard College in Dutchess County in December, talked about the difficulties she has faced in the three years since she arrived.
"My family calls me and says, 'Are you safe?' when they see Donald Trump [on TV]," Mustafa said, adding that she doesn't believe his statements, in which he's called for a ban on all Muslims entering the country, represents most Americans' views.
The war in Syria has forced close to 5 million people to flee the country, according to the United Nations High Commissioner for Refugees (UNHCR). President Obama has called for 10,000 Syrian refugees, and 85,000 refugees overall, to be resettled in the U.S. in 2016. While IRIS has helped settle dozens of refugees in Connecticut, virtually no Syrian refugees have been settled in Westchester.
Tuesday's event began with remarks from Memorial United Methodist Church Rev. Karen Eiler and a performance by singer Omnia Hegazy, who sang about the series of revolutions that broke out in the Arab world in 2011. The panel was moderated by Rev. Doris Dalton, with Rabbi Dr. Julie Danan of Pleasantville Community Synagogue adding closing remarks. The panel included a question and answer period, with attendees who took the microphone overwhelmingly in favor of accepting Syrian refugees.