White Plains' AJ Simpkins Returned to Writing and Found Poetry Slams
We are part of The Trust Project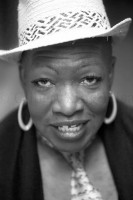 By Paige Leskin
Alice Joyce Simpkins has come a long way since 2005.
That year, Simpkins had, medically-speaking, died. Twice. After being revived twice and going through grueling operations, she was put in a medically induced comma to go through the healing process.
When she awoke after two weeks, "my attitude towards life was completely different," Simpkins said. Her fears had disappeared, and she was ready to take a new approach in what she was doing.
So, Simpkins decided to pick up writing again. She had taken a short hiatus, but her life-changing experience let her rediscover her passion for the written word. "There's so many things I wanted to do, and I had the thought of 'why waste time?'" she said. "Because my life has changed, I'm in a different place right now."
Soon after joining local online programs and writing workshops, she found poetry slams hosted monthly at the White Plains Pubic Library. The "open mics" that were available allowed people to share their original pieces to a small audience.
Simpkins listened and participated a couple of times, soon realizing how much she enjoyed the slams and the competitions that occurred.
"I started to take the slams more seriously," she said. "I began to rehearse my pieces, and won some of the contests."
The host of the Library slams, Slam Master Eric "Zork" Alan, saw Simpkins' potential and invited her to join the White Plains team that will go to the National Poetry Slam. The competition will take place in Boston in mid-August, and three other local residents will join Simpkins in the trip.
It will be her first time to Nationals, but not for her teammates. Simpkins says that their familiarity will be beneficial to her performances. "It's awesome to have teammates who have been there before," she said. "They have a lot of experience in how people act in different settings," she said.
Simpkins took pride in noting that she can offer a valuable skill to the team with her background. "I used to be an actress. I bring my improv knowledge," she said. This helps her teammates to personify their pieces, to get into character to help convey the poetry's message.
Simpkins holds deep admiration for slam poetry and its power. "Even though we're poets and writers, we have to perform too," she said. "You only have three minutes to bring your point across, with your expressions and your voice."
Since discovering slam poetry, Simpkins has changed. She has drawn confidence from her poetry and the people around her, who tell her that she is making the right move in going into poetry. With that newfound poise, her poetry has improved too.
"You have to believe that what you're reading is what people want to hear," she said. "My confidence has increased one-hundred percent since being on this team."
Simpkins has completely transformed her life since her near-fatal period more than eight years ago. "I'm doing a lot of things now that I had put off because of work and family," she said.
Now, she is doing what she has always wanted to do. She often volunteers at the senior center when she has free time. She has made it a goal to examine her family's history, where she can relate to her grandmother, who was a poet too.
"She wrote a lot of poetry, and I want to edit it into a book," Simpkins said. Her grandmother, Alice Gibbs-Fripp, told Simpkins a lot of stories when she was younger, about living on a farm in South Carolina. "I retold her stories after she died, and I tell them in my poetry," Simpkins said.
Poetry has reawakened Simpkins. She says she is amazed every day by what she can do and what comes out of her head. "I like that I have the ability to express myself," she said. "A lot of the time I go, 'Wow, that was me?'"
Simpkins doesn't write and perform poetry for the glory and fame, as others do. She is grateful for the simple ability to share, to receive thanks for what she is doing.
"It's what gets me through the day," Simpkins said. "It's all I need."