A former retail executive with 25 years of experience in the fashion merchandising industry has opened up what could be Westchester's first fashion boutique offering trendy, well-made clothing at unbeatable prices.
"The most difficult part about the business was coming up with a name," said Vivian Hoffman, owner of Whim.
Realizing that northern Westchester was in desperate need of a fun and affordable place to shop, Hoffman left her job as a senior merchant for the Century 21 department store chain. The daily commute into Manhattan from her South Salem home and the extensive business travel schedule she maintained also factored into her decision to start something new.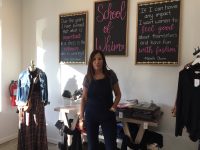 Hoffman said she settled on the name Whim for the store, a perfect choice for her new venture.
Together with her son, Greg, Hoffman opened up the business in June, believing that her years of experience in the contemporary ladies' fashion market coupled with the many valuable relationships she made with vendors all over the world, could make Whim a success. Hoffman's daughter, Sophia, also works at the store part-time.
In a county where national clothing chains have made their mark, Hoffman is excited about bringing her brand to the area.
There's a fun vibe to the brightly lit store in the heart of Mount Kisco's downtown. Pop art pieces adorn the walls, along with other prints displaying meaningful quotes that speak to the importance of fashion. She chooses her inventory carefully, with an eye to satisfying the budget-conscious consumer.
"Most everything in the store is under $100, with 80 percent of it under $49," Hoffman said.
It's a shopper's heaven at Whim, with a selection of trendy footwear, sweaters, tops, blouses, bodysuits, dresses, jackets, sweatpants and a large assortment of jeans on sale. Hoffman also sells an array of trendy pocketbooks as well as fashionable jewelry.
"While lots of other boutiques tend to be very expensive, we sell really fun, trendy, well-made clothes at good prices," Hoffman said.
Hoffman is also eager to give back to the community and support various charitable causes, including the Alzheimer's Association, by selling a jewelry collection called Brace URself. The Giving Keys jewelry line, which is made from repurposed keys, can also be found at Whim. Sales of the jewelry are used to help people transition out of homelessness.
She is currently organizing a fundraiser to benefit recent hurricane victims. Customers who donate $10 will be entered into a raffle and have the chance to win the Chanel wall art that is hanging in the store. The raffle will take place this Saturday.
Hoffman said she is thrilled to bring smart-looking, affordable fashion to local shoppers.
"It's all about having a great style and brand selection that translates to good value for the customer," she said.
Whim is located at 55 S. Moger Ave. The store is open Monday through Friday 10 a.m. to 7 p.m., Saturdays 10 a.m. to 6 p.m. and Sundays 11:30 a.m. to 6 p.m.
Check out the store's social media presence on Facebook at https://www.facebook.com/whimlove and on Instagram at https://www.instagram.com/whimlove. For more information, call 914-244-0034.