Where to Go for Mardi Gras Reveling on Fat Tuesday
Opinion Advocates for ideas and draws conclusions based on the author/producer's interpretation of facts and data.
We are part of The Trust Project
By Morris Gut
Proprietor Peter Van Cott of The Bayou Restaurant, 580 Gramatan Ave. in Mount Vernon, has been serving up the spirited sounds and flavors of Cajun country since 1991, and the place is still funky and enjoyable.
So, if you can't make it to New Orleans, this is the spot to revel to authentic blues and zydeco music while hunkering down to an overstuffed po' boy or house specialties such as voodoo wings; muffulettas; Southern-fried chicken; grilled peppered catfish; tender pork ribs smothered in barbecue sauce; and the Jazzy Jumpin' Jambalaya served with Louisiana andouille sausage, alligator sausage and crawfish tails smothered in rich creole gravy. Its 32nd annual Mardi Gras Bash will be held on Fat Tuesday, Mar. 1 featuring live entertainment.
Reservations are suggested. Info: 914-668-2634 or visit www.bayourestaurantny.com.
Owner Nick Fusco at Freebird Kitchen and Bar, 161 Mamaroneck Ave. in White Plains, serves a Southern-themed menu that includes pimiento cheeseballs served with pecans and Ritz crackers; fried green tomatoes; Cajun pasta; shrimp and grits; and chicken fried steak. Look for a swarm of artsy birds hanging from the ceiling.
Open for dinner on Monday through Thursday at 4 p.m. and Fridays at 2 p.m. and for lunch starting at 11 a.m. on Saturday and Sunday. Happy hours are from 4 to 7 p.m. A weekend brunch is available.
Info: 914-607-2476 or visit www.freebirdkitchenandbar.com.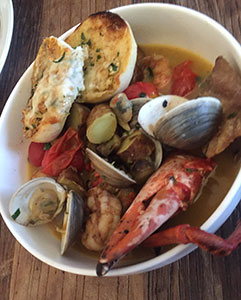 Artist, model, actor and consummate host Alvin Clayton of Alvin & Friends, 14 Memorial Highway in New Rochelle, has been marking his 10th year with solid doses of American soul food, a taste of the Caribbean, spirited jazz sessions and art. Alvin & Friends has a sophisticated Manhattan vibe.
Check out the classic jambalaya, shrimp and grits, fried chicken and bourbon-glazed pork chops. There are burgers and mac and cheese, too. Combine your visit with some live music. I love their Friday night jazz featuring local talent. They have music on Saturdays, too. The Sunday Jazz Brunch is a winner as well.
Info: 914-654-6549 or visit www.alvinandfriendsrestaurant.com.
Owner Spiros Chagares of Artie's Steak & Seafood, 394 City Island Ave., City Island in the Bronx, does a wonderful job with his American shellfish jambalaya. It's loaded with the flavors of New Orleans. It can be easily shared, like so many of their other big combo platters. Good craft beer selection and cocktails.
Info: 718-885-9885 or visit www.artiescityisland.com.
Owners Greg and Jon DeMarco and Kevin Campbell of Rye Roadhouse, 12 High St. in Rye, will be marking Fat Tuesday all day. The fun starts with specialty cocktails, authentic New Orleans dishes and traditional zydeco music. Try their tasty shrimp po' boy or mixed bowl of jambalaya with meat and seafood including andouille sausage and crawfish tails. The sweet potato fries served with remoulade are great. Beads and giveaways are also promised.
Reservations are a must. Info: 914-925-2668 or visit www.ryeroadhouse.com.
Hook & Reel, 2375 Central Park Ave. in Yonkers, is part of a 70-store Cajun-style restaurant chain espousing the delights of Southern seafood. There are crayfish boils and po' boys. The menu allows you to select your favorite meat, seafood and vegetables and they will prepare a New Orleans-style meal.
Info: 914-355-7739 or visit www.hookreel.com.
Holy Crab, 32 Mamaroneck Ave. in White Plains, serves fresh Cajun-style seafood as you would see in New Orleans. It is a long, sprawling space with a bustling bar and lounge. Open daily from 1 to 9:30 p.m. Check out such specialties as the lobster mac and cheese, po' boys, gumbo, snow crab legs and jambalaya shrimp.
Info: 914-948-3888 or visit www.holycrabny.com.
Southern Table Kitchen & Bar, 39 Marble Ave. in Pleasantville, offers a big dose of Southern hospitality along with house specialties such as fried green tomatoes, cheddar biscuits, grit bowls, Cajun-style seafood boils and chicken and waffles. There's good fried chicken, too. Open daily.
Info: 914-618-3355 or visit www.southern-table.com.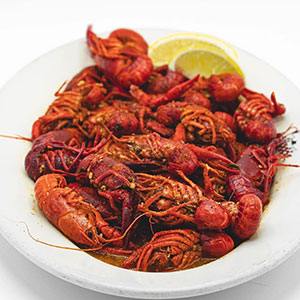 Winter Farmers Markets
So, you've had enough of winter, and you miss visiting your favorite farmers market? Well, some of our most popular markets operate all winter, and while you may not get the bountiful produce of the other seasons, it still is a good place to pick up a variety of artisanal meat, cheese, jam, bread and more.
Here are some area markets to choose from. Check ahead for any late changes. Happy winter foraging!
Ossining Farmers Market. Corner of Spring and Main streets, Ossining. Year-round. Saturdays from 9 a.m. to 1 p.m. Info: Visit www.downtoearthmarkets.com.
Pleasantville Farmers Market. 10 Memorial Plaza, Pleasantville. Winter market operations on Saturdays from 8:30 to 11:30 a.m. through Mar. 26. Info: Visit www.pleasantvillefarmersmarket.org.
Larchmont Winter Farmers Market. Metro-North upper lot, Chatsworth Avenue and Myrtle Boulevard, Larchmont. Saturdays from 9 a.m. to 1 p.m. through Apr. 16. Info: Visit www.downtoearthmarkets.com.
Irvington Winter Farmers Market. Main Street School parking lot, 101 Main St., Irvington. Second and fourth Sundays from 9:30 a.m. to 1 p.m. through May 22. Info: Visit www.irvingtonfarmersmarket.org.
Hastings-on-Hudson Winter Farmers Market. Commuter parking lot at 134 Southside Ave. (across from the Metro-North station), Hastings-on-Hudson. First and third Saturdays from 9:30 a.m. to 1 p.m. through May 21. Info: Visit www.hastingsfarmersmarket.org.
Gossett's Farmers Market. Gossett Brothers Nursery, 1202 Old Post Rd. (Route 35), South Salem. Operates year-round. Saturdays from 9 a.m. to 1 p.m. Info: Visit www.gossettbrothers.com.
Cold Spring Farmers Market. Boscobel House and Gardens, 1601 Route 9D, Garrison. Saturdays, 10 a.m. to 1 p.m. Info: Visit www.csfarmmarket.org.
Hudson Valley Regional Farmers Market. Hudson Valley Cerebral Palsy Association, 15 Mount Ebo Rd. South, Brewster. Year-round on Sundays from 10 a.m. to 2 p.m. Info: Visit www.hudsonvalleyfarmersmarket.org.
Westport Winter Farmers Market. Gilbertie's Herb Gardens, 7 Sylvan Lane, Westport, Conn. Thursdays, 10 a.m. to 2 p.m. through Mar. 10. Info: Visit www.westportfarmersmarket.com.
Morris Gut is a restaurant marketing consultant and former restaurant trade magazine editor. He has been tracking and writing about the food and dining scene in greater Westchester for 30 years. He may be reached at 914-235-6591 or gutreactions@optonline.net.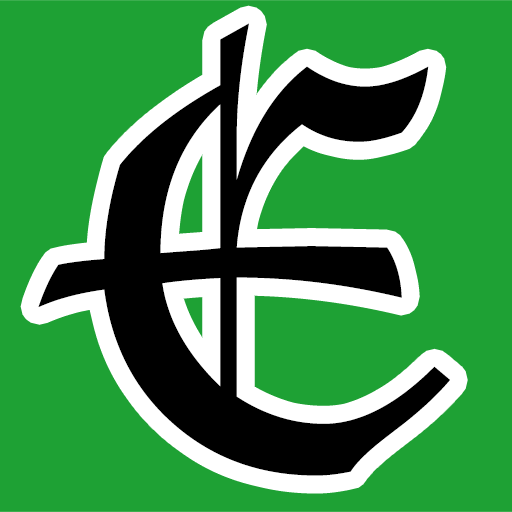 Examiner Media – Keeping you informed with professionally-reported local news, features, and sports coverage.