When Does Political Speech Cross the Line to Hate?
We are part of The Trust Project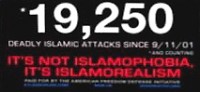 That question is being asked by members of the White Plains and Greenburgh communities speaking out in opposition to ads paid for by the American Freedom Defense Initiative (AFDI) and posted on billboards at Metro North  train stations in Westchester County.
An ad posted at the Hartsdale train station says "19,250 Deadly Islamic Attacks since 9/11/2001." It ends with: "It's not Islamophobia. It's Islamorealism."
In an e-mail circulated by Greenburgh Town Supervisor Paul Feiner last week, he suggests the ad's message is inflammatory and offensive and does not represent the opinions of many in the community nor that of Metro North. Feiner has suggested Metro North place big posters next to these ads highlighting the fact they are offensive.
A similar action was taken by the Hastings-on-Hudson Village Board. They posted a message on the town website condemning the billboard's message. An excerpt from that letter states: "While the Board respects everyone's right to free speech, we categorically condemn the bigotry and innuendo expressed by this billboard message. To tar a faith and its followers because of the actions of a few is deplorable, hateful and morally repugnant. …"
In a U. S. District Court decision on July 20th, Judge Paul A. Engelmayer determined the MTA was in violation of the First Amendment when it rejected an advertisement from AFDI to run on the exterior of New York City buses. The ad read: "In any war between the civilized man and the savage, support the civilized man. Support Israel. Defeat Jihad." The MTA claimed the ad violated one of its written advertising no-demeaning standards. This includes ads which demean "an individual or group on account of race, color, religion, national origin, ancestry, gender, age, disability or sexual orientation."
Judge Engelmayer's decision against the MTA declared that as a New York State public authority and public benefit corporation that had decided to accept advertising, including political ads, and relied on the revenue obtained from such advertising, the MTA could not reject ads from a political advocacy organization such as AFDI.
Some members of the Westchester community suggest differently. White Plains resident and spokesperson for the Westchester Martin Luther King Jr. Institute for Non-violence, Julie Davis Carran, said the first ads in the ongoing controversy were of a political nature. In fact, the first billboard posted by the Committee for Peace in Israel and Palestine was anti Israel. "The latest ad goes beyond politics and policy because it singles out a specific group of people and delivers a hate message," Carran claims.
Howard Horowitz, a member of Temple Israel in New Rochelle and active member of WESPAC agrees. "We might not be able to outlaw ethnic hate groups but the consequences of their behavior can lead to severe actions. As a member of the Jewish community Horowitz says this is the type of behavior that led to the Holocaust. "This cannot go unanswered," he said.
Dan Berger, executive director of the Lower Hudson Valley Chapter of the New York Civil Liberties Union told The White Plains Examiner that because the MTA is a public agency it cannot exercise viewpoint discrimination. "The solution is not censorship. It is up to the community to react against these ads," said Berger.
An ad hoc committee of Westchester people including members of the Jewish Voice for Peace and WESPAC, supported by the Interfaith Connection and MLK Institute have created a letter writing campaign directed against the latest ad from AFDI. "We cannot remain silent about this," said Carran. "We must talk about it. We must write about it and bring the discussion out into the public domain."
Carran, Horowitz and members of the committee suggest discussing these issues with family, friends and colleagues at home and in houses of worship. They encourage people who disagree with the message to say so by sending letters to local media and to Metro North expressing their concern, as well as contacting local and regional officials to get them to denounce hate speech. The group plans to hold a public meeting and press conference in coming days.