What Sets One Wine So Far Apart From All Others?
We are part of The Trust Project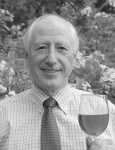 Remember the heady days before the Great Recession? Irrational exuberance. Conspicuous consumption.
For some these were forewarnings of economic turmoil ahead. For others these became the mantra for sustained hedonism.
Then it all came crashing down around our feet. Some fared better than others, while a significant number experienced career, if not life-altering trauma.
Well, here we are, fully a decade on from those dark days. And the mindset of the pre-recession era is evidenced again in small pockets. Notwithstanding the shifts in personal wealth and economic growth, the polarization of wealth in our nation and the globe has become startlingly disparate. I read somewhere that the aggregate wealth of the 85 richest individuals in the world is greater than that of 50 percent of the global population.
Recently, I've seen pockets of this exuberant consumption(?) in the auction marketplace. A few months ago, Da Vinci's Salvator Mundi sold for $450 million, shattering all previous records for paintings. Then last week I read of another auction that I feel compelled to report to you. And it relates to wine. Therefore, I've decided to digress from the next installment of my Spanish wine series to bring this to your attention.
Sotheby's auction house, which has sold its fair share of rare and highly sought-after wines, auctioned a collection of French wines from the famed cellars of Robert Drouhin. One of the wines set a record in grand style, far surpassing its estimated sale value and far exceeding the previous world record.
One bottle of 1945 Domaine de la Romanée-Conti (DRC) was sold in a frenzied bidding war to an Asian investor for $558,000. That equates to $111,600 for one glass, assuming the bottle will ever be opened and served. It also is the cash price for a comfortable three-bedroom house in most housing markets in the United States.
By comparison, the previous record for a bottle of wine was $310,700 for a jeroboam (equivalent to six standard size bottles) of 1945 Mouton-Rothschild sold in 2007.
The auction value of a particular wine is derived from several factors. Its scarcity, desirability amongst competing collectors, unique attributes and storage history all contribute to the ultimate value and hammer price.
Let's focus on the three criteria that I believe contributed to this record-setting sale.
The wine. DRC is the most famous vineyard/winery in the world. Nestled France's Burgundy region, it historically commands the top price for wine in every release and in every auction. It is farmed biodynamically on a small plot of land. Its small production (5,000 to 6,000 bottles on average) guarantees a high price. The current release, not readily available, sells for about $25,000 per bottle.
The vintage. Of all its vintages, the 1945 DRC is the most prized. The staying power, aromatics and flavor profile are legendary. And only 600 bottles were produced. The vines were pulled and the vineyard replanted after harvest; the next DRC wasn't produced until the 1952 vintage.
The provenance. Rare wines may change hands multiple times as they pass from one collector's cellar to the next. Thus, the consistency of its quality and aging profile may vary over its life. If storage in a credible owner's cellar cannot be verified for every year of its life, a rare wine's value may diminish. Not to mention that counterfeit wines proliferate in the marketplace.
The 1945 DRC came from the cellar of the 85-year-old Drouhin, one of the most reputable winemakers in Burgundy. His father, Maurice, was the distributor of DRC from 1928 to 1964. The 1945 DRC had been in the Drouhin cellar since release, a rare occurrence in the life of such a storied wine. This factor may have contributed most to the record-setting auction price.
As incredible as the bidding was for this bottle, just as amazing is that there was another bottle of the 1945 DRC sold minutes later. For $496,000, to a New York real estate developer. Exuberant consumption for certain.
Nick Antonaccio is a 40-year Pleasantville resident. For over 20 years he has conducted wine tastings and lectures. Nick is a member of the Wine Media Guild of wine writers. He also offers personalized wine tastings and wine travel services. Nick's credo: continuous experimenting results in instinctive behavior. You can reach him at nantonaccio@theexaminernews.com or on Twitter @sharingwine.