News Based on facts, either observed and verified directly by the reporter, or reported and verified from knowledgeable sources.
Westlake, Putnam Valley Leading Class B Hoop Hopefuls
We are part of The Trust Project
By Tony Pinciaro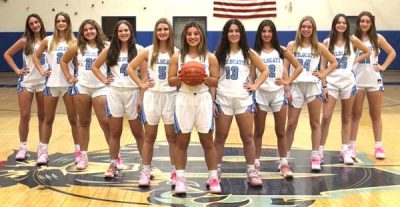 Following a difficult loss in a 2022 Section 1 Class B semifinal to Irvington, WESTLAKE was anxiously looking forward to the 2022-23 season. Even though the Wildcats graduated three seniors, the nucleus of the team was returning.
"We were really proud of what we accomplished last year and also excited that we were still going to have a lot of returnees," said senior and fifth-year varsity player Allie Castellone. "Even though we didn't win it last year, we knew we'd have another shot this year so we were excited."
The Wildcats have established themselves, once again, as a sectional contender. After opening the season with a loss, Westlake has ripped off six consecutive wins.
Westlake came into preseason prepared because of the off-season work the team exhibited.
"In the fall we did a lot of open gyms and workouts," Castellone said. "We felt it was also important for team chemistry. Our team is close and we hung out together during the spring to keep that connection."
The senior quartet of Toni Ann Mastracchio, Sami Oswald and Francesca DiMartino are especially close. The four girls all began playing CYO in third grade at Holy Rosary in Hawthorne. Castellone noted that the girls won the title in third grade.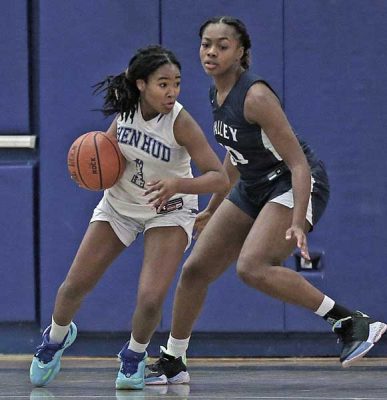 Castellone received a good feeling about the team throughout preseason, especially during scrimmages.
"It was like we had not stopped playing," Castellone said. "We picked up right where we left off. We had great ball movement. The energy on the court on the bench made it so positive. It was a great environment to be in."
During this Westlake six-game winning streak, the Wildcats (6-1) have manhandled their opponents. The two most recent victories over Bronxville (64-47) and Haldane (62-36) were by a combined 43 points.
Castellone led the way against Bronxville with a game-high 26 points and Oswald finished with a season-best 16 points. Castellone registered 24 points against Haldane and Brooke Pfieffer finished with 12 points.
Westlake returns to the court in the new year against Pleasantville. Castellone and her teammates are well aware of what they need to do for a return trip to the final four and possible berth in the Section 1 Class B final.
"I think we need to stay mentally locked in and not forget what we want," Castellone said. "We have to continue playing how we are, keep working hard, keep moving the ball, play hard defense and be ready to play when we go on the court."
PANAS improved to 4-0 this season with a second victory over Somers in a week. The Panthers defeated Somers (53-31) in the Tuskers' Tournament final.
Katie Hofmann and Sofia Tavarez had 12 points apiece in the recent 45-21 victory.
"Our team is off to a good start, but we haven't been at full strength yet," Panas Coach Matt Evangelista said. "Due to injury and illness, we have been missing at least one starter and most of the time additional players in each game and many practices.
"We haven't put it all together, yet, in a game offensively. On the other hand, our defense has been excellent. We are holding teams under 30 points and generating a lot of steals and turnovers."
Panas plays Suffern in a first-round game of the Nyack Tournament, Wednesday, 12/28. The consolation and final will be Thursday, 12/29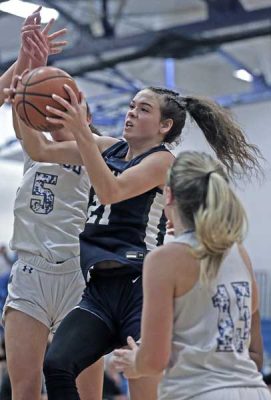 PUTNAM VALLEY senior Eva DeChent has been lighting it up offensively through the first month of the season for the once-beaten Tigers (7-1).
In the Tigers' three victories last week – over previously-undefeated Hen Hud, Ardsley and Lakeland – DeChent rang up 88 points. DeChent poured in 34 points to hand Hen Hud its first loss of the season.
"Eva's start to the season is a credit to her hard work, her talent, her indomitable spirit and her family," Putnam Valley Coach Don Hamlin said. "She wants to and does improve daily. The crazy thing is that we still haven't seen how great she could be. She has awesome potential for further growth.
"Her family deserves a lot of credit for encouraging her potential and being with her every step. She's had great coaching and I'm not including myself in that. She's learned a lot, she accepts coaching and is a great competitor. She doesn't talk about it, she just does it."
Along with her 34 points against Hen Hud, DeChent added nine rebounds, seven steals and seven assists. Simone Gabriel, who has truly come on in recent weeks, had 11 points and nine rebounds and Nai Torres had 11 points.
DeChent scored 28 points and grabbed nine rebounds against Ardsley. Gabriel added 14 points and 12 rebounds.
DeChent finished with 26 points, seven rebounds, five assists and four steals against Lakeland. Torres had a season-best 24 points and Gabriel chipped in 15 points and seven rebounds.
Nichole Ljuljic had 21 points for LAKELAND (5-2).
BRIARCLIFF held off Croton for a 52-49 victory behind 15 points from Caroline Barbalato.
Cat Carrafiello filled out the statistics' sheet with 12 points, eight rebounds, eight assists and six steals. Gemma Fante added 11 points for the Bears (3-3).
"We needed that win against Croton," Briarcliff Coach Denise Hamlin said. "Cat Carrafiello stepped up and led the girls from beginning to end. She is an awesome leader for this team.
"Caroline Barbalato and freshman Gemma Fante stepped up throughout the game. We were able to get out to a lead and to Croton's credit, it would close the gap, but our girls stayed poised and answered all of the Croton runs."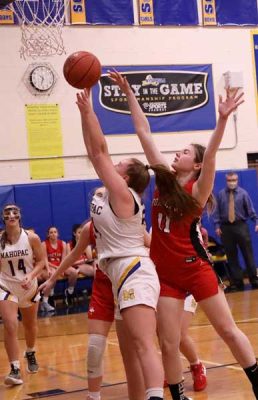 MAHOPAC improved to 4-1 this season after a victory over FOX LANE (1-2), in which the Indians had a balanced scoring.
Freshman Madysen Ford finished with a team-leading 10 points and Lauren Beberman and Brianna Ferrieri each had eight points
"I am really impressed with our progress, so far," Mahopac Coach Mairead Hynes said. "I have been with our defense, thus far. We are becoming the relentless team we can be. It was nice to see the girls bounce back from a tough loss to Panas, which I think shows a lot about the character of our team, that we don't stay down for long."
Mahopac will host its annual tournament, Wednesday-Thursday, 12/28-12/29. Mahopac will play Clarkstown North in the first round, 3 p.m. The consolation game is 11 a.m., Thursday, followed by the final at 3 p.m.
WHITE PLAINS turned up the defensive intensity in its only game of the week, a 64-36 victory over Arlington.
Ineivi Plata led White Plains (3-2) with a game-high 21 points. Capri DeMara finished with 11 points and Aliya McIver added 10 points.
"We had to rely on extending our defense against Arlington," White Plains Coach Benj Carter said. "They were much bigger than us and we didn't want to get caught in their half-court offense around the basket.
"After film study, we wanted to speed them up to play up-tempo.That was our plan and it worked. We needed our defense to win the game for us. We kept that mindset for 32 minutes."
HORACE GREELEY overwhelmed Poughkeepsie, 68-40, in its only game of the week as the Quakers improved to 3-3 this season.
Allie Mosca led the Quakers with 14 points. She also added six rebounds and four assists. Emma Rose contributed 12 points, seven rebounds and six steals and Georgia Sack also had 12 points. Meredith Feiner finished with a double-double – 10 points and 10 rebounds – and she had five thefts.
The Quakers will play in the Carmel Tournament, Dec. 28-29.
VALHALLA returned to the win column with a 59-25 victory over Lefell as Violet Mattoni led the Vikings (3-5) with 15 points.
Cydney Waterman finished with 14 points and Paige Wiiliams added 13 points.
HEN HUD cruised to its eighth consecutive win, 65-32 over Eastchester, to open the season. However, the Sailors (8-1) were handed their first loss by Putnam Valley, 66-52.
Kaitlyn Raguso scored a game-high 23 points against Eastchester.
Kayla Tresgallo added 11 points and four steals and Lexi Robinson chipped in eight points. Madison Porter grabbed 11 rebounds and Hailey Pearson finished with nine rebounds and a team-best five assists.
Raguso had a team-leading 23 points along with seven rebounds and six steals against Putnam Valley. Porter added nine points and 15 rebounds. Hen Hud returns to action, Jan. 2, when it hosts John Jay-Cross River.
BREWSTER opened its week with a rough 46-33 loss to Pelham in the Brewster Tournament championship game.
The Bears (4-3) returned to practice and responded in their next game with a 65-25 victory over Riverside.
"It was a great game until the fourth quarter when we only scored two points," Brewster Coach Mike Castaldo said. "The final eight minutes Pelham did a great job of limiting us to one shot and making us work for everything. Defensively, we were fine as we only gave up 18 second half points but just couldn't score when it mattered."
Jordan Niles and Madison Dakin were selected to the all-tournament team.
Brewster had four players in double figures against Riverside, led by Olivia Francis and Dakin with 14 points apiece. Lauren Leon and Niles each added 10 points.
Brewster will play in the Carmel Tournament, Dec. 28-29.
CARMEL went 1-1 for the week and is now 3-2 this season.
The Rams lost to Mount Vernon, 58-41, but rebounded to an easy victory over Saunders on Staff Appreciation Night at Carmel.
In the loss to Mount Vernon, Maeve McGlynn had a team-high 22 points and Amelia Rosario added nine points.
McGlynn led a balanced scoring effort against Saunders with 14 points. Devin Fusco contributed nine points and Megan Whitford and Rosario each had eight points.
Carmel will host its tournament, Dec. 28-29.
YORKTOWN is now 2-2 this season following a 43-34 win over Nanuet behind a game-high 19 points from Olivia Lucas and 17 points from Kaitlyn Judge.
BYRAM HILLS lost its only game of the week, 49-46 to Rye, as
Grace Corelli led the Bobcats (1-6) with 17 points and Lucianna Parrotta added 16 points.