Westchester-Putnam TheraTeam, Mahopac
We are part of The Trust Project
By Anna Young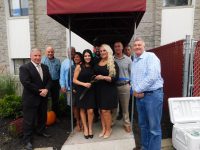 After spending years determined to own and operate a private practice, the owners of Westchester-Putnam TheraTeam in Mahopac opened their doors in August providing speech-language, occupational and physical therapy to those in need.
Speech-Language Pathologists Dr. Kristen Bellom-Rohrbacher and Rachel Kass opened their practice because they wanted to help those with ailments build a better life in a constructive, caring and supportive environment.
"We treat everyone as an individual," Bellom-Rohrbacher said. "Our goal is to impact our patients in a positive way by providing the most modern and evidence-based treatments available in the most positive way."
The Mahopac practice treats people of all ages in Westchester and Putnam counties diagnosed with articulation and phonological disorders, expressive and receptive language disorders, voice disorders, tongue thrust, stuttering and fluency disorders, feeding and swallowing disorders, and pragmatic language deficits.
The team also provides cognitive therapy for individuals with intellectual disorders or those affected by a traumatic brain injury, stroke, dementia, as well as any other disease affecting the brain.
While the practice offers in-home and community-based therapy, the Mahopac office is equipped with a sensory room that combines a range of stimuli to help individuals develop and engage with their senses. Bellom-Rohrbacher added that the sensory room helps those with autism, developmental disabilities, learning disabilities or sensory processing impairments.
"It helps children with sensory processing difficulties, so we provide the equipment that they need in order to interact best with their environment," she said. "Everything is play-based with the kids because they learn best when they're playing. We incorporate our goals into their play routines in order to make it fun and also facilitate progress."
With both Kass, 26, and Bellom-Rohrbacher, 30, life-long Putnam residents, they are both humbled to be able to provide their expertise in their hometown.
"It's always been my dream to bring my passion of speech pathology into our community," said Kass, whose parents own Stillwater Auto Body in Mahopac. "I always wanted to be a business owner so this is a dream come true."
Bellom-Rohrbacher added how thrilled she is to be operating her own practice after spending several years in school gaining experience in the medical field.
"It's been my dream to own a company that puts care and love into it and isn't financially driven," Bellom-Rohrbacher said. "I've worked really hard for this and going to school made me feel like this is what I'm meant to do."
Westchester-Putnam TheraTeam is located at 572 Route 6, Suite 102 in Mahopac. For more information visit, www.wptherateam.com.