Westchester Putnam Pottery, Jefferson Valley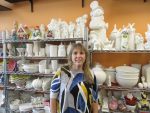 Mahopac resident Debbie Albanese recalled last week, "I've always loved doing pottery. I used to do pottery at home."
Since there were no other pottery businesses operating in the local area, Albanese said she opened Westchester Putnam Pottery in Mahopac in 2014. She decided to move the business to Jefferson Valley in June because she felt it was a better location with "a lot more activity here." Her former location was in a spot that was difficult to be seen by the public, Albanese said.
Albanese named her business Westchester Putnam Pottery because her customer base is from both counties and because her former Mahopac location was near the Somers border.
Albanese said her business, located just off the Taconic State Parkway, is centrally located and her customers generally live in northern Westchester and Putnam County.
Previously, Albanese owned a pet day care center.
Westchester Putnam Pottery is a pottery and glass fusion studio. The glass fusion process uses pieces of glass that are fired, melted into each other and made into shapes, Albanese explained.
Non-toxic glaze paints are used to color the pottery pieces, so people will be able to drink eat or off them. Following the painting Albanese fires the pottery for 24 hours at nearly 2,000 degrees. The molds, which Albanese makes herself or purchases from other artists, are created with liquid clay called slip, she noted.
Albanese said she typically creates 50 pottery molds in a day and it takes two to three days to dry them. The molds are then cleaned, fired and a put on a shelf, she said, adding, "It's a lot of work."
Customers can paint already formed pottery pieces on their own or take classes, Albanese said.
Patrons can also make scented candles with soy wax. "You make your own scent. We have 25 scents and you put your own scent in when you make the candle." Albanese said.
The business also offers canvas painting programs, a variety of birthday parties and programs for Boy and Girl Scout troops.
The pottery business does fundraising for the SPCA in Mahopac.
Albanese said she enjoys her work, which she described as upbeat. "I never get bored of it," she said. "I always have something to do."
Westchester Putnam Pottery is located at 3685 Hill Blvd. in Jefferson Valley. For more information call 845-628-2127or visit http://westchesterputnampottery.com.