Westchester Knicks Keith Wright Earns Sportsmanship Award
We are part of The Trust Project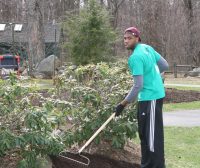 Besides playing in 47 games this season, while leading the team in rebounds with 6.9 per game, averaging 8.8 points per game and scoring in double-figures 23 times; Westchester Knicks forward Keith Wright has been a pillar of the Westchester community on and off the basketball court.
Wright was acquired by the Westchester Knicks from the Austin Spurs in a trade for his Harvard University teammate Wesley Saunders on February 23, 2016. Since coming to local Knicks, Wright has been a workhorse, while playing 23.6 minutes per game in 2015-16 and last season logging 26.7 minutes per game.
However, simultaneously during both seasons, Wright made the extra effort to be a competitive gentleman on the court and a helpful member of the Westchester County community off the court.
On April 17, Wright was awarded for his efforts, while being presented the 2016-17 NBA Developmental League Jason Collier Sportsmanship Award for character and conduct on and off the basketball court.
The NBA D-League Sportsmanship Award honors, Jason Collier, a former center in the NBA D-League, who also played for the NBA Houston Rockets and Atlanta Hawks. Collier died suddenly on October 15, 2005, while preparing to play in his sixth season in the NBA.
In April 2015, Wright formed a foundation titled The Wright of Way, Inc., which prepares and equips youth involved in basketball with the tools to obtain scholarships and funding to further their education.
This season, Wright's community initiatives included, working with the Food Bank of Westchester, Xperience Outreach Program and spreading Holiday cheer at the Boys and Girls Club of Northern Westchester. Wright also participated in free basketball clinics for the Junior Dub Knicks Youth League presented by Chase and accompanied local Knicks mascot Hudson to Maria Fareri Children's Hospital to surprise and comfort ailing children.