Westchester Diner, Peekskill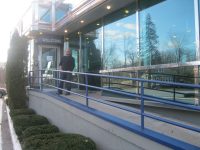 Somers resident Phil Deraffele wants to let the public know his Westchester Diner is open for business after it was recently closed for two weeks.
Deraffele said in a recent interview under his new ownership, with most of the employees who worked with the former owner, the diner reopened on January 8. Some local residents mistakenly thought the diner had closed for good, he said.
Changes are in store for the diner, Deraffele said. "We're going to be making a slow process of developing the place and modernizing the menu," he said. Small improvements will also be made to the restaurant, he said.
One of the new wrinkles already made to the menu is the introduction of Candy Milkshakes, which are also offered at the Pleasantville Diner, which he also owns, Deraffele said. "It's a milkshake with a lot of decoration to it," he said. For example, the Campfire Milkshake features graham cracker crumbles, toasted marshmallows and a chocolate bar. The new shakes, which cost up to $18 elsewhere in the county and New York City, are $7.99 at the Westchester Diner, he said.
"Like at Pleasantville, we take diner classics, like things you come to the diner for, you come for eggs and breakfast. You come for triple deckers. You come for burgers," he said. "I try to make the diner menu a little bit small." For example, the diner offers two choices of steak and three fish selectins. His specialties include breakfast items and burgers.
Deraffele said fresh food is an important part of his restaurant. For example, all of his soups are homemade, he said. The meats offered stay no longer than three days, he noted. "It's almost like a gourmet diner," he said.
The Westchester Diner has 48 tables and 60 parking spaces.
Deraffele, who worked in restaurants as a youth, said he plans to set aside a portion of his diner for a private room for events.
Aside from owning two diners, Deraffele said he has a background in renovating diners. The construction company he owns builds diners, he noted. "I have experience in just seeing what works and what doesn't work in the diners," he said. "I might visit 100 diners in a year and I can see off the bat who's doing really well and why and who's doing not so well and why."
The Westchester Diner is located at 300 Old Albany Post Rd. in Peekskill. For more information, call 914-734-4949 or.