West Nile Virus Policy Review in Westchester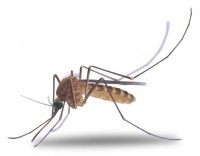 In a press release Westchester County Board of Legislators stated its intention to outline a new policy for West Nile mosquito larvicide treatments.
Concerned over numerous mosquito batches in Westchester having tested positive for the West Nile virus, Westchester County Board of Legislators (BOL) Chairman Ken Jenkins (D-Yonkers) will introduce new legislation next week requiring all Westchester County storm water basins around the county receive mosquito larvicide treatments based on a formula derived from the previous winter's weather pattern.
The legislation will be introduced at a meeting of the BOL Environment & Energy Committee, chaired by Legislator Mike Kaplowitz (D-Somers), on Tuesday, September 4 at 3 p.m.
Presently, storm water basin inspections and larvicide treatments are undertaken without any specific guidelines regarding seasonal temperatures. Many health officials across the U. S. are worried that warmer winters are allowing the mosquitoes that carry the West Nile virus to flourish.
"To protect our residents, we must do a better job of killing mosquitoes in places where they thrive, like in our storm water drains," said Jenkins. "To do this, the County's mosquito abatement decisions should be based on what kind of winter we've had. A mild winter, like the one we had last year, is a signal to us that we need more inspections and larvicide treatments, not less."
Jenkins began preparing the new legislation this April, three months before the first West Nile mosquitoes of the year were found in Mamaroneck. Last week, a 28-year-old New Rochelle resident was reported by the county health officials to be Westchester's first West Nile case this year.
Westchester County has been applying long-term larvicide into county and local municipal stormwater catch basins since 2001; the larvicide prevents mosquito larvae from developing into adult mosquitoes. The County normally begins to treat the catch basins with larvicide in May.
"It's important for officials to begin factoring in warmer, milder winters into public health and safety decisions," said Kaplowitz. "Our efforts to curtail disease vectors like mosquitoes will have to adapt to their changing patterns in terms of the calendar."