Investigative / Enterprise In-depth examination of a single subject requiring extensive research and resources.
We are part of The Trust Project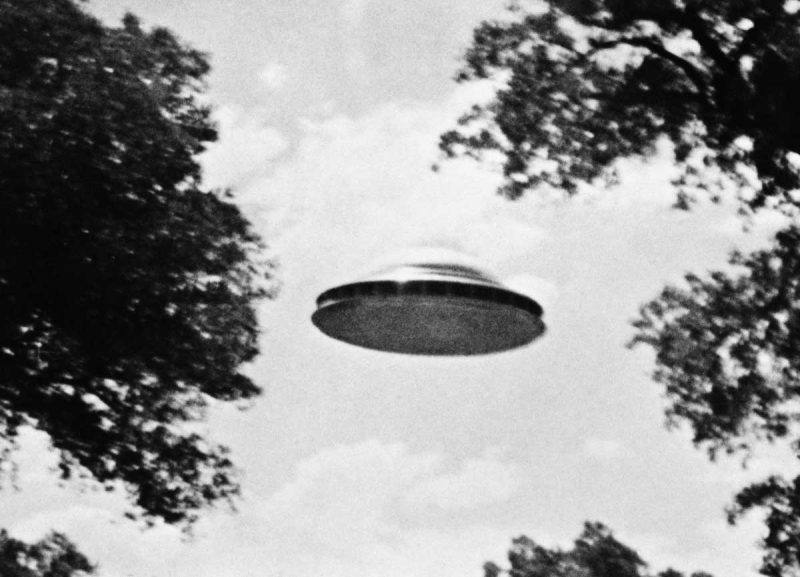 Slide 1 - UAP in Trees
How I Came to Believe in Extraterrestrials Over
the Past Two Weeks
This piece is the first installment in a planned series on the scientifically unexplained.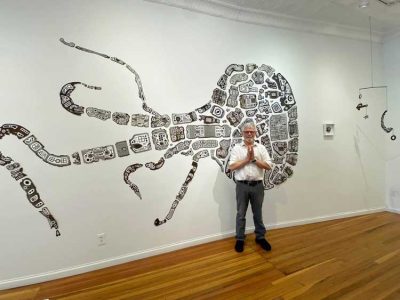 Local artist Paul Greco was pulling into his Yonkers driveway on a seemingly ordinary evening in November 2020, on Friday the 13th, when he looked up at the sky and witnessed what he concluded was more than likely an otherworldly scene.
He saw bright, glowing orange orbs, slowly moving east over his building.
Without a smartphone, Greco scurried out of his car and sprinted up the steps to his apartment for an iPad so he could film and capture the seemingly unbelievable.
"These are bright orange orbs moving," you can hear a breathless Greco narrate in the video he later posted to Facebook.
"Fairly large," he then said. "Not blinking, sort of pulsating a little. I never saw anything like this in my life. Oh, my God, oh here comes another one. Here comes another one. It's coming."
At about that moment, adding to the credibility of the experience, a pair of people happened to walk along, and began videotaping the scene as well.
"Hey, you see that up there?" Greco asked the other unexpected witnesses. "Look at that."
An avid skywatcher who had one other unexplained sighting a dozen years ago in New York City, Greco cited decades of research, conversations with experts and attendance at conferences to explain his belief in the existence of extraterrestrials – all of which have inspired the nature of his artwork.
'What I Saw Was a UFO'
When I interviewed Greco by phone last week about his personal experiences, he acknowledged the possibility of an explanation that doesn't feature alien life. But he also knows what he saw was a UFO.
"What somebody's going to say is they're Chinese lanterns," he said. "That's what they tried to say, they were Chinese lanterns. Now, Chinese lanterns do look weird. People have mistaken them for UFOs, but I really don't think these were Chinese lanterns. What I saw was a UFO. I mean, what I saw was unidentified."
Before you rush off, eyes rolling, assuming all sightings like Greco's are just the byproduct of explainable phenomenon, with reality distorted through the lens of imaginative human minds, consider the backdrop.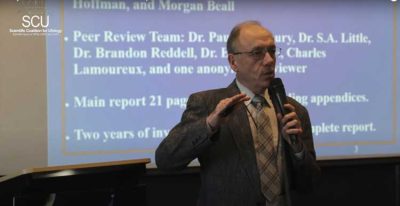 As you might have heard, intergalactic news broke last month in the domain of UFOs, now often dubbed UAPs, or Unidentified Anomalous Phenomena.
Intelligence officials say the U.S. government possesses craft of "non-human origin," as first reported by award-winning journalists Leslie Kean and Ralph Blumenthal in The Debrief. (Kean, who talked to Ezra Klein of The New York Times last month about her reporting, did not immediately accommodate my request for an interview, submitted through her book publicist.)
In the report, a widely respected Air Force officer and former intelligence official, David Grusch, insists he's been told by other high-ranking sources that our federal government operates a secret UFO recovery program. The military has even retrieved "dead pilots," aka aliens, Grusch separately told NewsNation.
Grusch put his entire reputation on the line last year, filing a whistleblower complaint with the Office of the Intelligence Community Inspector General, facilitating his sharing of classified information with a Senate committee on U.S. intelligence.
"We are not alone," the career intelligence officer asserted in a TV interview with NewsNation about a month ago, while also lambasting what he called "a sophisticated disinformation campaign" by the U.S. government on the issue.
Stigma Shedding Coverage
While mainstream national media outlets were largely leery about robust reporting on the topic in prior history, that reluctance has started to thaw over the last half-dozen or so years.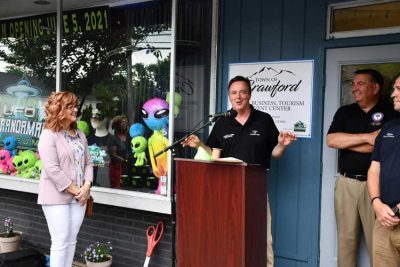 Heavyweights such as The New York Times and 60 Minutes have prominently covered the issue, publishing and broadcasting carefully vetted reports, including interviews with Navy pilots sharing their sightings. (Kean and Blumenthal's earlier reporting on the issue for The New York Times, along with Helene Cooper, contributed to the thaw.)
The topic has also generated bipartisan and high-profile interest, with Sen. Kirsten Gillibrand (D-New York) advocating for the full funding of a Defense Department office specifically charged with researching UAP while Sen. Marco Rubio (R-Florida) recently stated that whistleblowers other than just Grusch have come forward, too.
Meanwhile, the House Oversight Committee is planning a hearing on UAP in the aftermath of Grusch's revelations even as the Pentagon has denied the decorated former combat officer's mind-bending claims. I contacted local Rep. Mike Lawler's (R-Pearl River) spokesman to inquire about national security implications but he declined comment, believing the issue was too "niche."
Separately, a group consisting of NASA experts and scientists are also expected to release an inaugural report on UAPs as soon as this month, according to published reports.
While elaborate hoaxes (along with explainable phenomena such as spying operations by foreign powers and airborne trash) complicate the conversation, unexplained experiences have confounded scientists, and the Pentagon is also studying hundreds of still unresolved UAP.
"NASA believes that the tools of science apply to the study (of) UAP because they allow us to separate fact from fiction," Dan Evans, assistant deputy associate administrator for research within NASA's Science Mission Directorate, stated in CNN coverage on June 1.
Tantalizing Detail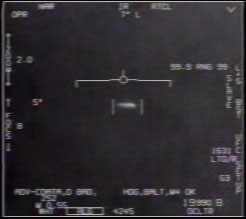 A 2022 annual report from the Office of the Director of National Intelligence on UAP also generated intrigue when the unclassified version dangled a tantalizing detail: "additional information is provided in the classified version of this report," it read.
The document's executive summary also cited how "reporting is increasing, enabling a greater awareness of the airspace and increased opportunity to resolve UAP events."
As for our local area, a review of the National UFO Reporting Center database shows thousands of area sightings from throughout the years.
While the four-decade-old organization does not vouch for the individual observations indexed in the database, it's pretty mind-boggling to sift through the anecdotal testimony from our fellow area earthlings.
"We saw a craft with green and red lights that was flying and had a wobbly (back and forth and left and right) flight pattern," reads a remark in the database, referencing an approximately 90-second sighting in Somers on June 12, 2022.
'They're Not Far Out People'
One thing I did not know when beginning research for this column is just how uniquely rich a history our Hudson Valley region maintains related to UFOs.
Former Journal News columnist and current Westchester Magazine contributor Phil Reisman, a seasoned and accomplished local journalist, covered the issue when there was a spike in sightings during the pandemic, including an interview with Greco.
"Earth is a mere dust mite in a galaxy of specks swimming in a universe that is ever expanding," Reisman wrote. "Who can say with certainty that we are all alone and that there is no other life out there?"
A couple weeks ago, when I started this reporting, I asked Phil for any tips, and he pointed me to Pine Bush.
Charles Carnes is the Crawford town supervisor, just north of us in Orange County. Pine Bush, a hamlet of Crawford, is known for its history of reported UFO sightings. It has become a popular destination for those interested in extraterrestrial encounters, and even maintains a related town-run museum.
I asked Carnes in a phone interview last week if he's ever experienced a personal encounter with the paranormal. While not a staunch believer or animated cheerleader on the issue, Carnes did share with me what he witnessed about 15 years ago.
He observed strange lights in the fields of the Searsville area of town, late at night. He said that although he couldn't definitively label it a UFO sighting, he undoubtedly saw something that appeared inexplicable.
"I could have sworn, looking out in the fields out in the Searsville area…that there was something happening out in the fields as I looked into the distance with bright lights around 10 at night or so," Carnes said in our interview. "They went on for some time, and then it disappeared."
Just the sheer volume of reputable people he knows who have seen the seemingly inexplicable leads him to conclude something is afoot.
"They're not far-out people," he explained of the many fellow townspeople who have eyeballed and experienced the unreal.
UFO 'Discovery'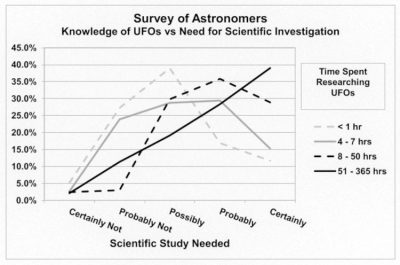 Filmmakers even visited Pine Bush for a 2021 Discovery Channel documentary that featured interviews with locals, further cementing the town's reputation for sightings.
The supervisor participated in an interview for the documentary, also listening in as fellow residents shared their experiences. There's no known, earthly explanation for some of the stories he heard.
"One of them was a moving one and some of them were in the Searsville Route 52 area with the fields down in the open areas and stuff," Carnes recounted. "So I'm going to say that there was enough of them around there that something's happening."
I asked the supervisor if serious-minded elected officials might have grown more politically comfortable in recent years discussing the issue, amid the evolution of public perception of extraterrestrial phenomena.
"So with the military releasing things and more and more things coming out, I think it's a little more accepted that something's going on, there's something out there," he replied. "So I'm going to agree with that statement that you just made."
He even said vocal skeptics of the reported sightings (particularly doubtful older residents) have cooled their jets in recent time.
"It seems to have died down," the supervisor said. "We're not criticized nearly as much as we used to be."
UFO & Paranormal Museum 
The town's Pine Bush UFO & Paranormal Museum, which opened in June 2021, has played an educational role related to UFOs, also providing a kind of "safe space" for enthusiasts to engage in dialogue on the still sometimes-stigmatized topic.
I spoke last week to Lance Hallowell, the museum's director of operations and special events. Hallowell explained how the Pine Bush area experienced an influx of attention in the 1980s due to a mammoth spike in sightings.
The annual Pine Bush UFO Fair, which debuted about a dozen years ago, attracted about 7,000 for the one-day event last month, featuring thousands of hardcore UFO enthusiasts but also just random people looking to participate in a fun June event.
Activities include the "Best in Galaxy Beauty Pageant" – a costume contest – but also more sober-minded events, such as a UFO speaker conference.
Notably, the past year's conference hosted Travis Walton, renowned for his alleged abduction experience, as depicted in the movie "Fire in the Sky," which was criticized for taking wide creative license from the author's book.
I asked Hallowell to share a particularly powerful sighting that might help sway skeptics. But he said the most compelling evidence isn't any particular anecdote. It's in the immense quantity of personal testimony from credible people.
"We regularly have people that are still sharing things that they've seen and are supporting the information that we're sharing in the museum," he explained. "Because they were like, 'Oh, yeah, I was there for that.'"
Hudson Valley History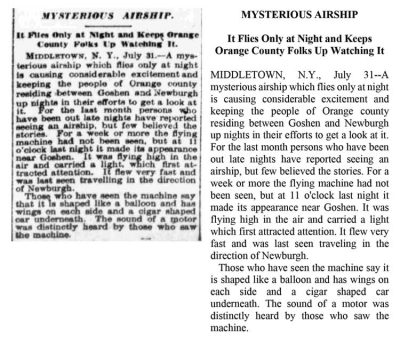 Even though mainstream media outlets have been hesitant to report on the issue over the years, significant reporting has taken place. Take, for example, data published in a comprehensive 1987 piece in The New York Times.
About 6,000 area residents – locals from Westchester, Putnam and Connecticut – were reported to have experienced UFO sightings over the preceding four-plus years, according to a volunteer group quoted in a detailed Times article at the time.
The 1980s spike of sightings in the region included northern Westchester. For instance, a Yorktown police officer and a highway department worker were among those who witnessed a large unidentified V-shaped object with colored lights reportedly flying less than 1,000 feet near the Triangle Shopping Center in 1983.
The recent normalization of the issue has also produced mea culpas.
Award-winning writer David Riedel penned a piece for HuffPost a few weeks ago where he apologizes to his late, scandalized father for dismissing his claims of alien encounters.
The piece came as a response to last month's blockbuster report in The Debrief, which was headlined "Intelligence Officials Say U.S. Has Retrieved Craft of Non-Human Origin."
"I'm not laughing anymore, but not because I know what that headline is saying is absolutely true and proof lies just around the corner; I'm not laughing because I should never have laughed in the first place," Riedel wrote in his HuffPost essay.
I also wondered how local law enforcement might handle sightings. Westchester County Police spokesman Kieran O'Leary said the department would document any potential information provided by the public as a blotter entry. If it's an incident in the sky, local police wouldn't really play a role.
"I imagine if somebody…said they thought it was something in their backyard, we would go regardless of how they described it, that kind of thing," O'Leary told me in a brief phone interview last week, noting how he would research related local statistics and get back to me.
O'Leary wasn't aware anecdotally of any recent sightings reported to county police and told me in a subsequent e-mail that a more comprehensive search for local statistics would require a Freedom of Information Law (FOIL) request.
Scientifically Speaking 
Before finalizing this column, I wanted more reassurance on the prudence of spilling this much print and digital ink on the topic. I listened in on a NASA teleconference with the media from June 9, 2022, then interviewed a UAP scientist and spoke with a UFO investigator.
Experts on the NASA teleconference discussed the new independent scientific study commissioned by the agency, as well as the group's plan to rigorously examine available data and establish methods for collecting future data.
Dr. Thomas Zurbuchen, NASA's associate administrator for the Science Mission Directorate, notes in an audio recording of the teleconference how the group would be looking look at "exoplanets planets outside of our solar system, looking for the question whether certain environments are, in fact, part of if you want the ladder of life, that got us to where we are."
"We have the tools and teams who can help us improve our understanding of the unknown," the former professor of space science and aerospace engineering at the University of Michigan also said in the teleconference. "And we are prepared to use these powerful tools of scientific discovery, in this case as much as anything else, using exactly the same kind of approach that we always use on identified phenomena."
I also spoke late last week with Robert Powell, an executive board member and co-founder of the Scientific Coalition for UAP Studies, a widely respected nonprofit think tank.
My conversation with Powell, more than any other, really blew my mind entirely open. Although not planned at the time of the dialogue, I've posted the audio (with permission) from the interview inside podcast format, just as a way to make the discussion publicly available. The sprawling interview is too long and too meaningful to do justice to here in my Stone's Throw column with a few quotes.
Non-Human Aircraft 
The SCU, a nonprofit organization founded in 2017, comprises about 250 members, 30 percent of whom hold a Ph.D., with a strong background in the sciences.
A former engineering manager in the semiconductor field, Powell began to devote about 20 hours a week to UAP research after retirement, ultimately authoring books on the subject and eventually co-founding the SCU to promote scientific investigation.
Highlighting one of the most compelling UAP events in modern history, Powell discussed the 2004 incident off the southwest coast of California involving the USS Nimitz carrier strike force and the USS Princeton missile frigate.
"And this object is basically moving randomly and making sudden turns and accelerations that no aircraft can make," Powell explained of the 2004 encounter, which was prominently chronicled in The New York Times in 2017.
Navy pilots had encountered a Tic Tac candy-shaped object that exhibited extraordinary maneuverability, reaching humanly impossible speeds of between 30,000 and 50,000 miles per hour. That is exponentially faster than the fastest known human aircraft, which can only reach speeds of about 2,000 miles per hour in the lower atmosphere. Read that again: Up to 50,000 miles per hour compared to 2,000. But it was the acceleration specifically that really defied understanding.
"The reason there's intelligent, non-human life is because it requires intelligence to take a physical object and accelerate it at that great speed," Powell explained. "So we are not aware of any non-intelligent apparatus that can suddenly accelerate like that."
Benevolent Life
When I asked if we should be terrified or exhilarated by intelligent alien life, Powell unambiguously said the latter. He noted that civilizations capable of interstellar travel are likely to have survived long enough to develop benevolence, reducing the likelihood of hostile intentions.
"And the argument assumes that any unknown intelligence comes from another star system and that if any civilization develops like ours, we already have the ability to destroy ourselves, but it will be several hundred years before we have the ability to travel to other star systems," he said. "So you have this period of time where if you're not a benevolent species, you'll probably eliminate yourself. And so the argument is that any species that can last long enough to make it to the stars is likely going to be benevolent."
In other words, any intelligence that possess the capability of traveling here with such advanced technology is, by definition, exponentially more advanced than us, in the order of several hundred years.
"And so, to give you a feel of what that's like, imagine the difference between our society today and our Earth society 200, 300 years ago," elaborated Powell.
Here's a way to process and make sense of Powell's point: Consider the vast chasm between horse-drawn carriages in 1723 colonized America and the supersonic jets in today's electrified 2023 United States of America.
Powell acknowledged the challenges of addressing skepticism surrounding UAP research. He explained that the SCU embraces scientific skepticism, but differentiates it from close-minded skepticism or unquestioning belief. The organization focuses on investigating possibilities and collecting evidence to support hypotheses.
Formerly the director of research for 10 years at the Mutual UFO Network, or MUFON, Powell co-founded the SCU in 2017 because he felt like he could never "get science incorporated into the organization" at MUFON.
Scientists are skeptical by definition but blindly disbelieving is just as mindless and absurd as blindly believing.
"There's a difference between being skeptical and not being open to possibilities," he said.
---
This audio of an interview with Robert Powell, co-founder of the Scientific Coalition for UAP Studies.  
---
'We're the Rats'
Regarding the timeline for potential contact with intelligent extraterrestrial life, Powell forecasted the occurrence within the next 50 to 100 years, although he of course couldn't be sure, noting how it might be far sooner or longer.
Factors influencing the prediction from Powell included advancements in exoplanet detection, which may lead to targeted communication efforts, as well as the possibility of another civilization visiting Earth.
"Because in a way, it's like the scientists in the lab with some rats, but in this case, we're the rats," Powell said, noting how the timeline might very well be up to the other intelligence. "And how do we do a scientific evaluation of scientists who are evaluating us?"
But does Powell believe or does he know?
"That's a very good question, because the answer to that question, the difference between knowing and believing, is going to vary by the person, even for scientists," Powell said. "For me personally, if I'm able to establish that an object can move in ways that no one on Earth is capable of making an object move, then to me that's an unknown intelligence. Someone else may be convinced they would have to see the object land in front of them and someone gets out and it would take that level."
Powell also spotlighted the fact that our recent reaction, as humans, to the presence of UAP helps illustrate our earthly shortcomings.
"Whether it's the United States or China or Russia, national security is the concern because we don't want one of our enemies on planet Earth to learn something that we don't want them to learn and vice versa," he said. "And so that just tells you where we are at this point as a species."
When the day comes that we meet some other intelligence, Powell said it's "not going to be a meeting between 150 nation states and this other intelligence."
"It will be a meeting between the human race," he said. "And whatever this intelligence is, it has a side benefit of bringing us together as a people rather than 150 different little warring factions. That's what I see as a net benefit besides just the value of exploration and curiosity."
Mysterious Airships 
Linda Zimmermann, an investigator and author, contributed extensive research to the Pine Bush museum, uncovering numerous sightings and an exceptional amount of information on paranormal activity associated with the Hudson Valley, dating back to the early 20th century.
She began to delve into the realm of UFOs in her writings starting in 1998, but it was around 2010 when she truly immersed herself in the subject.
Between 1982 and 1986, there were a staggering 5,000 reports of UFO sightings in the Hudson Valley. The region has been considered the third biggest hotspot in the country, as reported in Zimmermann's 2013 documentary, "In the Night Sky."
After establishing herself as a science and history writer, Zimmermann would lecture in the area.
"For many years," Zimmermann explains in the documentary, "I was lecturing around the Hudson Valley, (and) people came up to me with their UFO stories. And I always said that, 'Sorry, I don't do UFOs.' But so many credible people had so many amazing stories to share. I said, you know, maybe I should do UFOs."
She even had two personal experiences. In 1979, Zimmermann and other witnesses, including a state police officer, experienced sightings across Rockland County, from Nanuet to Lake Deforest in West Nyack to Lake Tiorati in Harriman State Park. She also discussed an awe-inspiring 1987 sighting in Washingtonville, Orange County.
But the power of her work is fueled by the more than 1,000 local residents she's interviewed over the past 15-plus years.
A former research scientist and author of more than 30 books, Zimmermann told me about the significant wave of sightings in 1909 that spread throughout the Hudson Valley, New England and even Canada.
Witnesses reported observing large craft with powerful searchlights that could hover and move at high speeds. The 1909 Orange County sightings in communities such as Goshen and Newburgh occurred at a time in history when there were no nighttime flights, perplexing experts and challenging skeptic explanations.
"So I think it's important to set that precedent that the Hudson Valley was active long before we had secret military black projects," Zimmermann told me in a phone interview last week.
She's unearthed contemporary newspaper accounts, detailing the early 20th century sightings.
"It Flies Only at Night and Keeps Orange County Folks Up Watching It," reads an Aug. 1, 1909, headline in a New York Sun newspaper clipping Zimmermann shared with me.
Zimmermann also told me about a contemporary newspaper account of a man named Otto Pushman who was sent to jail for 30 days for cursing and searching for the mysterious airship. The incident occurred in Newburgh, and Otto's lewd language led to his imprisonment.
"Otto Pushman, Newburgh's champion cusser, had been sent to jail for thirty days for using sulfurous language," an Aug. 5, 1909, article in the Goshen Democrat declared. "During the nocturnal hours of Tuesday he was discovered on Grand Street looking for that ding-blasted airship that the Newburgh papers tell about and cursing fervently at the blankety-blanked moon."
Don't forget: even in our judicial system, the carefully examined, personal testimony of individual people remains the bedrock of evidence and legal proof while inferences are a feature, not a bug, of the scientific method.
Although there are distinct, fundamental differences, there are also striking intellectual similarities between instinctively rejecting the testimony of, say, an assault victim and refusing to consider the accounts of alleged abductees.
Close Encounters
Zimmermann also touched on close encounters experienced by witnesses, including cases of missing time and alleged abductions. She recounted the story of a Brewster witness who saw the encounters as positive and believed he had been honored with contact from non-human beings.
"It was a man who actually had a lifetime of sightings and it was multigenerational, his parents, his grandparents," Zimmermann said.
She also shared a remarkable recollection involving people marked with triangular-shaped scoop marks, or scars, noting she has "physically put my finger in these depressions, scoops, triangular-shaped scoop marks."
"I was at a meeting of experiencers just to hear their stories, and this one woman as a girl claimed she was abducted," Zimmermann recalled. "And before she could mention about this triangular mark on the upper part of the lower part of her abdomen, two women said, 'Is it a triangular mark in the lower part of your abdomen?' And that sent chills through me there."
I also asked Zimmermann about any patterns in the stories she's recorded and she said UFO shapes reported in the Hudson Valley ranged from giant triangles and rectangular crafts to cigar shaped as well as "classic" flying saucers.
Hotspots in the 1980s included Shrub Oak, Poughkeepsie and many other area communities.
"Along the 84 corridor, essentially, and the Taconic also, dozens of cars would just pull off," Zimmermann remarked. "You really don't want to stop your car on Route 84, and people would just pull over their car, get out and watch these craft hovering over them."
That big wave, in the 1980s, featured sightings in Westchester, Rockland and Orange counties but the volume was most intense in Putnam, especially in Brewster.
"Massive, silent triangles were hovering at treetop level for as long as 20 minutes," Zimmermann said. "And any given night, there were thousands of witnesses, and this went on for at least six years at that intensity."
Company Line
Regarding the response to UFO sightings by authorities, Zimmermann shared insights from her interactions with tons of area police departments. While many officers privately admitted to witnessing unexplainable phenomena, they were often instructed to dismiss sightings by offering mundane explanations to the public.
"I can't tell you how many police officers I spoke to who in the 1980s said they were told, 'Whatever people call and tell you, you tell them it was a formation of planes that they saw,'" Zimmermann said.
However, she noted that the stigma surrounding UFO sightings has diminished over time, and the topic is now more openly discussed.
Throughout the interview, Zimmermann emphasized the significant impact the sightings had on witnesses' lives.
Tens of thousands of local people who did not seek the role found themselves in a position where their extraordinary experiences were often met with ridicule and disbelief, even from family and close friends.
"I remember one very old lady, she said, 'I didn't ask to be a witness. It happened. I know what I saw, and I don't appreciate people making fun of me and ridiculing me because of it,'" Zimmermann remembered. "And it's traumatized a lot of people because it's an experience that is probably the most incredible thing they'll ever see in their lives, and no one will believe them, and they're made fun of because of what they saw."
Rabbit Holes
If you want to go down rabbit holes yourself, just start googling about the Phoenix Lights, Rendlesham Forest, the aforementioned Nimitz UFO Incident, Roswell, and the Blue Book Special Report No. 14, or read controversial late astronaut Edgar Mitchell's publicly expressed views.
And although the secondhand nature of the information gives real fodder to skeptics, how can't you be intrigued by a public FBI document from 1950 that shows how the head of the bureau's field office in Washington, D.C. relayed a third-party account about an Air Force investigator reporting three "flying saucers" recovered in New Mexico?
"Each one was occupied by three bodies of human shape but only three feet tall, dressed in metallic cloth of a very fine texture," Guy Hottel, the FBI field office chief, writes in his memo, available for public review on the FBI website. "Each body was bandaged in a manner similar to the blackout suits used by speed fliers and test pilots."
But it's important to stress how disproving some conspiracy theories in no way negates the scientific conclusions reached by experts like Powell on the unexplained.
There are actually fewer hardened deniers than I realized. About 65 percent of Americans suspect intelligent life probably exists on other planets, a Pew Research Center survey from 2021 concluded.
With so many humans convinced, I wondered about artificial intelligence's conclusions. After a verbal wrestling match with ChatGPT, I finally compelled it to give me a speculative statistic on the mathematical probability that we're alone on the planet.
Initially, the AI hedged.
"Considering the vastness of the universe, which is estimated to contain billions of galaxies, each with billions of stars, the probability of Earth being the only planet with life may be extremely low," it initially conceded.
But I pushed further with follow-up questions, and got ChatGPT to speculate based on its immense understanding of known science.
"This hypothetical estimation suggests a probability of 1 in 100 billion that Earth is the only planet in the universe hosting life," the AI ultimately acknowledged. "However, I must reiterate that this number is purely speculative and should not be considered as an accurate or scientifically supported estimate."
For those keeping score at home, 1 in 100 billion, for all practical purposes, basically means zero, caveats aside.
Belief
We're obviously left with tons of uncertainty. The existence of extraterrestrial life raises profound questions that have intrigued legitimate researchers and crackpots alike.
Most conspiracy theories in general tend to be preposterous on their face, vastly overrating government's ability to keep (or even want to keep) long-term secrets. I haven't quite yet reconciled that fact with the emerging UAP science.
It's also fascinating to consider the potential paradigm shifts that could upend science, aspects of organized religion and our fundamental understanding of the universe. Even as the facts become clearer, it'll be understandably tough for many people to relinquish a lifetime of past reality.
It does feel worth noting how this topic, for better or worse, has never previously been a particular interest of mine. Other than the past two weeks of work, it wasn't one of my obsessions. I don't even care about the Star Wars series. (Sorry not sorry)
But clinging to the notion in 2023 that we are alone in the universe, devoid of extraterrestrial intelligent life, might be akin to claiming in 1492, after Columbus sailed the ocean blue, that the Earth was flat, ignoring the immense wonder of incredible new discovery.
In contemplating our infinite expanse, it now becomes almost impossible, for me at least, to infer anything other than what seems to be the logical, some would say, scientific conclusion: Amidst the countless celestial bodies scattered across our cosmic beach, the existence of intelligent life can't be confined solely to this minuscule spec of sand we call Earth.
As most people of religious faith can attest, there's a difference between believing and knowing.
I don't quite yet know but I have started to believe.
How about you?
E-mail me at astone@theexaminernews.com.