WBT's Backwards in High Heels Tells Tale of Ginger Rogers' Real-Life Adventures
We are part of The Trust Project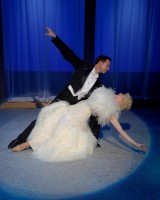 Ginger Rogers and Fred Astaire were the extraordinary dance duo who charmed Depression-era moviegoers for years. But the vivacious actress didn't win acclaim for her own unique talents until she split from Astaire and then won an Academy Award for best actress in the 1940 film "Kitty Foyle."
That and Rogers' climb from a talented tap-dancing, cherub-faced teen in Texas to a major Hollywood star is the basis for "Backwards in High Heels: The Ginger Musical" at the Westchester Broadway Theatre in Elmsford.
The show opened Aug. 14 and will run through Sept. 20.
The title of WBT's 191st performance comes from a quote in the 1982 "Frank & Ernest" cartoon that says: "Sure he was great, but don't forget that Ginger Rogers did everything he did – backwards and in high heels."
Conceived and developed by Lynnette Barkley and Christopher McGovern, the performance begins with an introduction to the precocious teen, played by Darien Crago, who wants nothing better than to tap dance her way through life.
Her mother, Lela Rogers, played by Erika Amato, is against her daughter entering a local Charleston contest, but the feisty Virginia Katherine McMath, which was Rogers' real name, is hearing none of it.
And so begins the tale of Rogers as the musical recounts her journey on the Interstate circuit to New York and other American cities and then on to a number of vaudeville acts and the Broadway stage, where she performed in "Girl Crazy" with the comedic actress Ethel Merman.
Throughout her early career and certainly when she became a Hollywood starlet, Rogers' mother was the driving force behind her. While they split for a while after Ginger Rogers' first marriage to Jack Culpepper, Lela Rogers' experience as a scriptwriter in Hollywood and her knowledge of show business was indispensable to her daughter's success.
The love-hate relationship with her mother that Rogers experienced as she made her way up the show business ladder is evident throughout this performance.
Crago, a talented tap dancer in her own right and by the looks of it, a classically trained ballet dancer as well, performs flawlessly in both the tap dance and ballroom scenes. Jeremy Benton, who plays Astaire and is also the show's director and choreographer, is equally impeccable in his timing and execution of the steps.
One of the most beautifully rendered scenes of the show is the performance by Crago and Benton as they dance hand-in-hand to "Shall We Dance," with Crago dressed in the Ginger Rogers white feather dress, a replica created for her by the show's costume designer Heidi Giarlo.
Some of the other memorable moments of this wonderful show include the ensemble performance of "I Got Rhythm" which features Avital Asuleen, who plays Merman, along with Crago, Matt Gibson, who plays Culpepper, and other members of the ensemble company.
The poignant scene between mother and daughter toward the end of the show, when Amato performs "You'll Never Know," a number that showcases her fabulous singing voice, is one that audiences will remember.
The classic George and Ira Gershwin numbers "Let's Call the Whole Thing Off," "I'm Putting All My Eggs in One Basket" and "Let's Face the Music and Dance" add an infectious air to the show.
All-in-all a truly powerful performance from Crago, whose singing talent is every bit as strong as her footwork, and Benton's charming portrayal of Astaire is, as well, a delight to watch.
To purchase tickets online, visit http://www.broadwaytheatre.com/or call 914-592-2222. For group sales, call 914-592-2225, or to make luxury box reservations, call 914-592-8730.
Colette Connolly is a copywriter and p.r. expert. She owns Connolly Communications, which is based in Bronxville, New York. Colette specializes in providing content-rich, SEO-optimized press releases, articles, newsletters, brochures, and customer success stories.