Wagner Concedes 40th Senate District Race to Ball
We are part of The Trust Project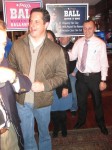 Justin Wagner, state Sen. Greg Ball's Democratic challenger in the 40th Senate District, has conceded.
Late Friday, Wagner posted a concession on his campaign's Facebook page stating that it was unrealistic he could pull out a victory.
"I want to congratulate Senator Ball on a hard fought victory in this election and wish him the best in representing our community," Wagner stated. "While absentee ballots are still being counted, information from the Board of Elections indicates that the number of outstanding ballots does not give me a realistic path to victory, and I do not think a protracted litigation would best serve the interest of the Hudson Valley."
Wagner's campaign had called for the impoundment of the ballot booths in the Westchester County portion of the district last week through a court order, reportedly because of alleged irregularities. A Nov. 30 court date to hear arguments in front of state Supreme Court Justice Sam Walker had been scheduled.
Ball had declared victory on Election Night based on the strength of the incumbent's showing in Dutchess County, which he won by 1,918 votes, and in Putnam County, where he held a commanding 5,037-vote lead. In both counties, 100 percent of the precincts reported by the end of that evening.
On Nov. 14, the Westchester County Board of Elections released its final ballot booth totals, showing Wagner ahead 44,509 to 40,778, to give Ball a district-wide lead of 3,224. Totals from all three counties do not include absentee ballots and affidavits.
In his message to supporters, Wagner thanked those who backed his campaign and the issues that were brought to the surface, including raising the minimum wage, defending reproductive health rights for women, campaign finance reform, tighter gun control and substantive property tax relief.
"We fought for issues that impact middle class families in New York, and I will continue to do that as a private citizen," Wagner said.
Several messages left for Ball were not returned.