Voters Defeat Proposed Change to Ossining Highway Super
We are part of The Trust Project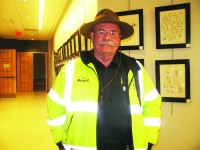 Voters in Ossining overwhelmingly decided last week to keep the position of highway superintendent in their hands.
By a tally of 904 (71%) to 377 (29%), residents rejected the Ossining Town Board's plan to change the highway superintendent from an elected post to an appointed job, which the board unanimously supported.
Highway Superintendent Michael O'Connor, a former town councilman who has been in office since 2006, said there's a reason 95% of the highway superintendents in New York State are subject to voter scrutiny.
"The system is not broken. It works," he said. "The people spoke. A number of people said to me they didn't understand the wording and if it was on the front of the ballot I think people voting against it would have been much higher."
In a written statement, the full text of which can be found on page 9, the town board pointed to being unable to get the word out to residents as one reason for the failure of the referendum.
"The Town Board remains committed to this change for reasons based on long-term operational needs, best management practices and efficient use of taxpayer funds," the board stated. "We now regret that there was insufficient time to adequately advise the public of the numerous positive benefits which would have been realized through this change."
Prior to the vote, O'Connor filed a lawsuit against the board, alleging it violated state laws by utilizing taxpayer funds to promote the passage of the referendum.
O'Connor said he has never been questioned by the board about any decisions he has made and emphasized the Highway Department can only make improvements with the funding allocated by the board.
"We have an infrastructure that is aging and there is no plan in place to address this," he said. "The Highway Department is not being given the funding to do the paving and this is a serious matter. It's been eight years since we paved the roads. We have an opportunity to borrow money at very low rates."