Virtual Music Store to Highlight Talents of True Artists
We are part of The Trust Project
For talented musicians who have little or no chance of getting their music into the mainstream, BCM Tunes is filling a void. The fledgling virtual music store, which was created by Hal Winer, owner of the Ossining-based recording studio, BiCoastal Music, and Kevin Kane, a local singer/songwriter, will put the spotlight back on the artist. That's a departure from the bigger record labels that focus on mass producing music intended for large audiences.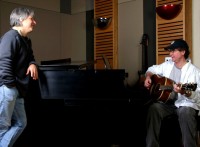 Winer, a Grammy-nominated engineer, and Kane, who also serves as vice president of the Saw Mill Club in Mount Kisco, were introduced to each other through Rob Thomas of the band Matchbox 20. Winer has been a music engineer/producer for the past 20 years, working with artists such as Thomas, Steve Miller and The Yellow Jackets. Kane has been a songwriter for most of his life, drawing inspiration from Jackson Browne, Elton John, Tom Petty, Paul Simon and Neil Young.
Both of them were interested in creating a brand that would focus on artist-centered music, not unlike the concept of "farm to table," said Kane, a movement that refers to producing food locally and delivering it to local consumers. In BCM's case, he said, the idea was to produce "real music by real musicians."
Both agree it was about 2008 when the music industry took a turn, with major record companies more interested in the artist who could sell the most or could be "dumbed" down to sound like other more famous musicians. The altered buying habits of consumers, a trend that emerged with the creation of iTunes, Amazon and other online music retailers, also changed the face of the industry.
"There's no such thing anymore as looking through a bin of music to see what you like," said Winer, referring to consumers' preferences toward buying singles as opposed to albums. With the creation of BCM Tunes, they hope to bring back the album's popularity, creating a batch of songs from start to finish that will appeal to different audiences.
While there's no shortage of top talent in Westchester, many gifted musicians are unable to find record companies that have experienced producers and professional musicians who will give them the guidance and expertise they need. That's where BCM Tunes differs.
"We like to pick people who have something to say," Winer said. "We are not genre-specific, but we do encourage the musicians we work with to be true to their art."
For artists who rely on computerized audio recording and editing software to help them record a song or an album, Winer and Kane offer an alternative–a line-up of world-class, Westchester-based musicians who are available to every artist who signs with BCM Tunes.
"The difference between a demo and a professional recording is time well spent, money, resources and sensibility," said Winer, adding that there's at least 100 years of collective experience in the back-up band they've assembled.
On Monday, Kane and his band, The Grifters, released an album of original music on BCM Tunes titled "Dangerous World." It was recorded over several months in Winer's spacious studio and includes nine tracks, all written by Kane. The indie rock-style album addresses a number of important topics, including untimely death and near loss, disappointing relationships and "the politics of unrequited confrontation, but with the ultimate hope in the promise of the individual," described Kane.
Artists who sign with BCM Tunes won't be judged on their marketability "or whatever is hip or not right now," said Winer. Because the bulk of a musician's commission typically goes to online sites like iTunes and Amazon, Kane and Winer said they wanted to create a company where the artists themselves would get more of a return on their sales.
"What BCM Tunes will do is provide a platform for our artists to sell their material to fans in a way that allows them to keep profits from the sale of their intellectual property," noted Winer.
From an engineer's perspective, the BCM Tunes brand makes perfect sense, said Winer. It gives him, as an engineer, the opportunity to participate in and add to someone's work.
Kane said BCM Tunes is open to anyone who has an artistic vision, but doesn't have the resources to bring that vision to life.
"Here you'll find honest music, never trying to be something else, and without the pressure to sound like the Top 40, a songwriter can express him or herself naturally, with true artistry," he said.
For more information on BCM Tunes or to listen to a few tracks from Kane's new album or other albums on the site, visit www.bcmtunes.com.
Colette Connolly is a copywriter and p.r. expert. She owns Connolly Communications, which is based in Bronxville, New York. Colette specializes in providing content-rich, SEO-optimized press releases, articles, newsletters, brochures, and customer success stories.