Vintage Lounge & Restaurant
We are part of The Trust Project
When Vintage Lounge & Restaurant owner Declan Farrell came to this country in 1990, he never imagined being in the hospitality industry, let alone owning a restaurant and bar in the county's most vibrant city. Raised on a farm in County Galway, Farrell was more familiar with working the land than catering to the demands of the restaurant business.
But true to the resilience of millions of Irish before him, Farrell has embraced the business wholeheartedly, making Vintage a popular spot among 20-somethings, families and corporate patrons.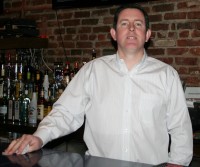 But it wasn't always easy. When Farrell opened the business in March 2003, the high-rises that are now part and parcel of the city's downtown area had not yet been built, and drawing a loyal following was difficult at the time. With the development of the City Center retail complex and the nearby development of Louis Capelli's Ritz-Carlton Westchester, Farrell's Vintage has experienced a resurgence.
Helping to attract additional customers to the Main Street establishment, Vintage underwent a top-to-bottom renovation a couple of years ago that included a relocation of the bar area and associated seating, as well as exposing the original interior walls of the building and the art deco architecture of the late 1930s.
"We felt we needed a change that would help us adapt to what White Plains really needed," said Farrell. "In many ways, if a bar or restaurant doesn't feel right to customers, you won't get them back."
With that philosophy in mind, Farrell set about hiring a top-notch staff of waitresses, bus boys and bar staff. "We wanted to retain the level of personal service that many of our customers had grown accustomed to, which was directly attributed to our staff," added Farrell. This friendly Irishman also saw the opportunity to cater to more than the lunch and dinner crowd.
With approximately 5,000 square feet at his disposable, most of that space located in the back of the restaurant, Farrell decided to use the additional space as an area for hosting events of all kinds, including bar and bat mitzvahs, communion and confirmation parties, christenings, bridal showers, and wedding rehearsals. There's plenty of seating, including a bar and a built-in DJ club system, and the space is away from the main restaurant area, to ensure privacy, said Farrell, a White Plains resident.
What's fascinating about Vintage is its history, which prompted Farrell, the father of two boys, one 14, the other a 5-week-old, to give it the catchy name. Part of the space once belonged to the Waldorf Cafeteria, run by the Waldorf Lunch Company, one of approximately 75 luncheonettes that spread from Springfield, Mass., to New York, Boston, Buffalo, and Providence, R.I.
Farrell, who is married to White Plains native Allison McGean, made the discovery one day as he was cleaning the blue-faced clock, which sits about 18 to 20 feet above the restaurant's façade and includes the words, "Waldorf Cafeteria." He has included a number of old photographs from post-War White Plains throughout the restaurant, which adds to its vintage feel.
In addition to the many events that Vintage hosts, the weekly Sunday brunch has been a real winner, said Farrell. The buffet-style "Sunday Fun Day Champagne Brunch" features a range of breakfast and lunch entrees, as well as salads, a carving station, desserts, and unlimited beverages, including a number of alcoholic drinks. The brunch, which is served between 11 a.m. and 3 p.m., costs $19.95, alcohol included or $15.75 without alcohol.
Farrell offers a host of other events during the week, including a Monday special that includes a pizza pie and pitcher of domestic beer for $9.99; a kids-eat-free special on Tuesdays, beginning at 5 p.m.; "Vintage Tango Night" on Wednesday nights, which includes a 30-minute tango lesson and a light buffet; "Throwback Thursday," a karaoke competition for ladies over 21; and a corporate happy hour each Friday, from 5 to 9 p.m. that includes $3 drafts and shot specials. Late night specials, from Thursday through Saturday, include half-priced sliders, burgers, wings, and nachos, all available between 10 p.m. and 1 a.m.
Believing in one's business is perhaps the best recipe for success, said Farrell, who is eager to recreate the same hospitality and friendliness common to the Irish culture. "Nevertheless, if you have a good product, friendly staff and your business is flexible and competitive, you can make it a success," he added.
To book a special event at Vintage, call (914) 328-5803 or email info@vintagebar.net. Visit Vintage online at http://vintagebar.net/wordpress/. The restaurant is located at 171 Main Street in White Plains.