Village Creamery & Sweet Shop, Valhalla
We are part of The Trust Project
While ice cream is often considered a summer staple, locals can enjoy the homemade produce at the Village Creamery & Sweet Shop in Valhalla all year long.
A host of delicious treats, including a large assortment of candy, milk shakes, smoothies are available. For the colder months, there are hot cocoa floats, homemade fudge, cappuccinos, lattes and other goodies.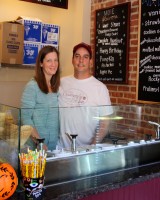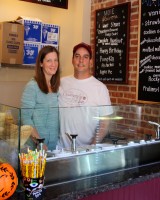 Located on Broadway in the heart of Valhalla, the shop is in a space once occupied by the Mount Pleasant Public Library. Owners Kristin and John Caldarola completed an extensive overhaul before the shop's opening in May, transforming the space into a brightly colored store that has quickly become a popular spot for people of all ages.
"We always wanted to get into some type of food-oriented business," said Kristin Caldarola, a Valhalla native who works as an occupational therapist in the Scarsdale School District.
Following his retirement from the White Plains Fire Department, John Caldarola felt the opportunity was right to start a business.
Because of their involvement in the Valhalla community–Kristin Caldarola served as co-president of the Valhalla School District's PTA and both serve on the board of the Kensico Little League–the couple has received plenty of local support.
The ice cream parlor is a natural attraction on the street, reminiscent of the days when sweet shops were part of every small town, she added.
An avid cook, John Caldarola has taken on the role of ice cream maker–and it's a job he thoroughly enjoys. A far cry from fighting fires, Caldarola, who grew up in White Plains, has learned to create an array of delicious treats using natural ingredients. All of the flavors available in the shop are based on his vanilla ice cream recipe.
"I make a lot of vanilla and chocolate ice cream because those flavors have always been popular," he said.
Since opening, Caldarola has become expert at crafting flavors such as Captain Crunchberry, which has proved to be one of the shop's biggest sellers. Other flavors that are in high demand include the malted balls ice cream; chocolate fudge brownie swirl; cookie monster peanut butter cup; cookies and cream; and the chocolate hazelnut and salted caramel. During the summer, Calderola made about six gallons of each flavor daily.
Ice cream is available in kid-sized portions and single and double servings and can be sprinkled with chocolate rocks, M&Ms, Reese's Pieces, walnuts, gummy bears and Butterfinger toppings.
Providing customers with ice cream that is flavorful but also mindful of their dietary needs is important to the couple, with nut- and gluten-free varieties sold.
If ice cream isn't enough to satisfy the sweetest of appetites, the shop also carries an array of loose candy. The old staples are there, including Mary Janes, jellybeans, Swedish Fish and gumballs along with more modern varieties.
Customers can order candy buffets, lollipop centerpieces and favors for parties. There are also novelty orders like chocolate chip cookie ice cream sandwiches, creamery cups (frozen dark chocolate shells filled with ice cream), a variety of eight- and nine-inch ice cream cakes in different flavors and ice cream pies.
The delicious treats that customers have become accustomed to at the Village Creamery will be available at Game On 13, a sports training facility in Elmsford, at the end of October. Ice cream, coffee, cappuccino, lattes, smoothies and protein shakes will also be on sale there. Birthday parties at Game On 13 will include the Village Creamery ice cream cakes, sandwiches and themed party favors.
The Village Creamery & Sweet Shop is located at 32 Broadway. The shop is open Tuesday through Thursday from 11 a.m. to 9 p.m. and Friday through Sunday from 11 a.m. to 10 p.m. Their website is www.villagecreamerysweetshop.com or visit on Facebook at https://www.facebook.com/VillageCreamerySweetShop/info.
Colette Connolly is a copywriter and p.r. expert. She owns Connolly Communications, which is based in Bronxville, New York. Colette specializes in providing content-rich, SEO-optimized press releases, articles, newsletters, brochures, and customer success stories.