Veterans to Get Free Energy Audits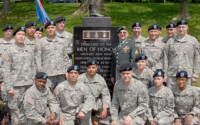 Attention veterans: You may qualify for a free energy audit of your home and guidance on how to obtain incentives to pay for any needed repairs.
County Executive Robert Astorino announced at a press conference Thursday that the county has teamed up with the Westchester chapter of the Building Performance Contractors Association (BPCA) and the New York State Energy Research and Development Authority (NYSERDA) to provide veterans with these free, no-obligation energy audits.
World War II veteran Victor Paolantonio of Ossining is the first of four veterans to receive the free energy audit ad any upgrades recommended.
 "Everyone – veteran or not – should consider having a home energy audit, but most of our veterans will get this free, thanks to our partners," said Astorino. "I urge veterans to sign up now."
To sign up or to get more information, contact Vito Pinto, director of the county's Veterans Service Agency, at 995-2145 or 995-2146.
Home energy audits usually cost about $500 and are designed to show homeowners what they can do to save energy in their homes, such as installing new windows, insulation, air sealing, high-efficiency heating or cooling equipment and more.
As part of the Green Jobs, Green NY program, NYSERDA will cover the cost of the audit for most veterans. For Paolantonio and three other veterans, BPCA, with the help of NYSERDA and donations from certain manufacturers and suppliers, will complete the renovations and replacement of old equipment. For further information, go to http://www.home-performance.org