Valhalla Making Moves in Class B; Somers Upsets Mahopac
News Based on facts, either observed and verified directly by the reporter, or reported and verified from knowledgeable sources.
We are part of The Trust Project
Byram Hills Torches Panas; Put Valley Improves to 6-0; Hen Hud Flips Yorktown
By Tony Pinciaro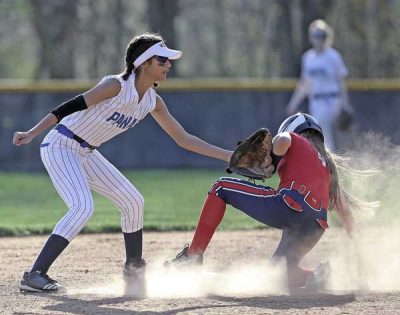 Emma Levine and her fellow returning VALHALLA softball teammates were facing a difficult task following the 2022 season. Valhalla graduated five seniors, including three starters, so the Vikings were facing a retooling mode after reaching the Section 1 Class B quarterfinal round.
Even with the five seniors graduating, Valhalla is off to a 4-3 start and is a sectional contender in Class B.
Valhalla's record is deceiving as the Vikings lost to Rye (Class A) and a 1-0 setback to Tuckahoe that was played with sectional intensity.
"It hurt, a little, to lose the seniors, but we were focused on retooling and growing closer to the players who took those spots," said senior and captain Emma Levine, a four-year varsity starter.
Levine and her fellow senior captains – Liriana Nezaj, Kathryn Wolfhal, Gianna Corelli, Ava De Natale – have done just this and the result was quicker team comradery.
"Making new relationships with the new girls has enabled us to grow so close in such a short time," said Levine, who will attend Binghamton in September and major in Psychology. "Finding out and learning how to work together has brought us together more quickly than we thought. They're also all super supportive of us and they want to help us achieve a section title, especially for the seniors. They're also super solid defensively, which has been one of our strong suits."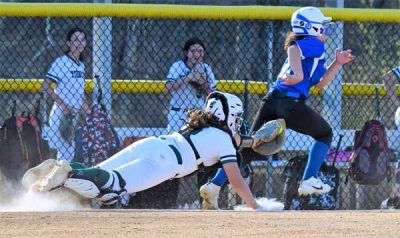 That, along with the performance of Tanner Smith, every time she steps into the circle, makes Valhalla a tough team. The junior struck out 14 in a win over Pawling and rang up a season-high 16 against Tuckahoe. Earlier, Smith registered her 400th varsity strikeout.
Levine is not concerned about her team's three losses because the Vikings played high-caliber competition and was in each game.
"It has definitely introduced us to great competition," Levine said. "So far, it's been really good for us and win or lose, it shows that we can compete with them.
"The Tuckahoe game, the intensity was there for both teams. We were super focused and supported each other. This game really shows what we can do as a team, how together we are and how far we can go in sectionals."
The Vikings went 2-2 for the week with wins over Dobbs Ferry (16-7) and Pawling (4-1) and losses to Rye (5-1) and Tuckahoe (1-0).
It was a game of firsts against Dobbs Ferry as Victoria Bencivengo, Dayna Abraham, Jessica Olenchak and Julia Mack each had their first varsity hit.
Gianna Corelli delivered the big hit against Pawling – a two-run double. Along with her 14 strikeouts, Smith allowed two hits. Emily Blume had two hits and an RBI and Corelli doubled against Rye.
SOMERS was facing a difficult task after a 2-1 loss to Lakeland the previous day.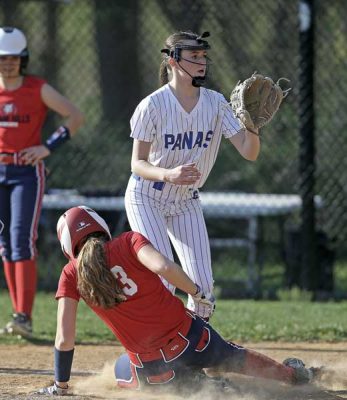 The Tuskers were playing Class A power Mahopac. The Indians came into the game off three consecutive wins in the week and boasted one of the best pitchers in Section 1 in junior Ava Lichtenberger.
When the final out was recorded, it was Somers who walked off the field smiling after rallying to a 5-4 victory.
It was the first win over Mahopac in program history and a special win for first-year Somers' coach and former Mahopac softball player Teresa Ricci.
"That was a big win for us," Ricci said. "Not only was it after a tough loss to Lakeland in the heat, but Somers has never beaten Mahopac before.
"This showed the girls' true character and that they are extremely resilient. Both coach Kelly Becker and I are Mahopac softball graduates, so it was weird not wearing blue and gold. I was proud for both teams."
Somers trailed, 4-3, in the bottom of the sixth inning, but Katie Cole doubled in Halle Conti and Victoria Morel (who doubled) with the tying and winning runs, respectively
Krista Gallagher also had two RBI and winning pitcher Emily Boyle doubled twice, drove in a run and struck out five.
Somers, now 5-1 this season, plays at Mahopac, 5/1.
Julia Rossi and Cole had two singles apiece and Gallagher knocked in the Somers' run against Lakeland. Boyle registered five strikeouts.
HEN HUD defeated Yorktown (19-3), but was on the short end of the score against Harrison (3-1) and Ardsley (4-3).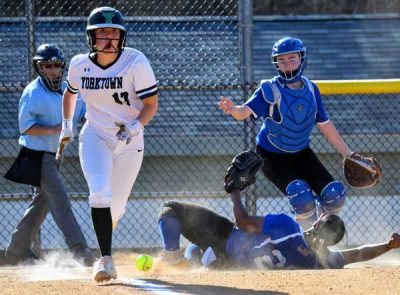 "Our bats were very active," senior and captain Paige Johannsen said about the Yorktown game. "We were hitting their pitcher very well and putting the ball in play the whole game. Our defense was sound and Emma (Barbelet) really led the way pitching. She limited Yorktown to only a few hits, which helped tremendously.
"We also had come off a loss so we wanted to get back in the win column very bad."
Barbelet allowed five hits and struck out five against Yorktown. Seventh-grader Giovanna Alphonse had her first varsity hit.
Johannsen was referring to the 3-1 loss to fellow Class A power Harrison. Barbelet surrendered five Harrison hits and fanned six. Johannsen singled and scored the Hen Hud run.
Kiely Morley had a big game against Ardsley with four hits and two runs scored and Lexi Schaffer added two hits and scored a run.
"Harrison and Ardsley are two very good teams," Johannsen said. "We went into those games knowing we had to play our best and I believe we still did. Not every day is going to be our's. Our defense was amazing against Ardsley so we have to continue to build our at-bats."
Barbelet, only a freshman, has established herself in the circle which has provided Hen Hud with a lift.
"Emma has been a great pitcher for us this season, so far," Johannsen said. "For only being a freshman and her first full year on the team, she is performing her best anc contributing to the overall team effort.
"Emma always gives 100 percent and treats every game the same. She has kept us in some tough games, especially this past week. Aside from pitching, Emma also is an asset to our lineup, displaying both sides of the game."
MAHOPAC had a busy week with four games. The Indians beat Fox Lane (3-0), Ursuline (2-1) and Lincoln (five-inning mercy rule) before being shocked by Somers (5-4). Mahopac Coach Cristina Giansante pointed out that first-year Somers' Coach Teresa Ricci is a Mahopac softball graduate.
Ally Wanner had two hits and two RBI against Somers. Ava Lichtenberger singled and drove in a run. She allowed six hits and struck out five.
Freshman Camdyn Wilson continued her outstanding first varsity season with a three-run homer. She leads Mahopac in RBI and hits.
"At bat, Cam is unbothered," Giansante said. "You can't get in her head or pressure her. She has a great eye and her pitch selection is something exceptional. She's been absolutely destroying the ball.
"Cam's height makes her an incredible shortstop because of the range she can cover. Her ability to get to a ball has improved so much since last year. Her growth is truly 110 percent."
Wilson supplied the decisive hit – a two-run single – against Ursuline to back the two-hit, eight strikeout performance of Lichtenberger.
Lichtenberger opened the week blanking Fox Lane, tossing a three-hitter and whiffing 10. She also drove in a run, as did Gianna Lofaro. Wanner and Wilson each had doubles.
PUTNAM VALLEY/HALDANE swept a pair last week as the Tigers doubled up Hastings (8-4) and walked off in a slugfest over Horace Greeley (15-14).
The Tigers are 6-0 this season.
Callie Sniffen had a big day against Hastings, going 3 for 3-3, including a two-run homer giving the Tigers the lead for good. She also scored three runs.
Katelyn Flanagan also had three hits and had a great game, defensively, in center field, according to Putnam Valley/Haldane coach Rena Finsmith. Kylie Recuppio allowed six hits and struck out nine for the win.
Putnam Valley rallied for five runs in the home sixth top draw within two 14-12. This set the stage for the seventh-inning heroics.
Sniffen tripled to lead off the seventh and scored on Flanagan's single. Maggie Caputo followed with a line-drive double to plate Flanagan with the equalizer. Mary Mikalson brought the game to an end with a single, scoring Caputo.
Sniffen had another big game with another two-run homer, along with a triple and double, three RBI and four runs scored. Mikalsen went 4 for 5 with three RBI and three runs scored.
LAKELAND and Somers engaged in a pitchers' duel that was played with sectional intensity.
The Hornets, behind pitcher Nicole Mautone, overcame the Tuskers, 2-1.
The freshman windmiller won her fourth game of the season. She gave up five hits, struck out four and the run was unearned.
"She was hitting her spots, working both sides of the plate and kept them off balance all game," veteran Lakeland coach Steve Fallo said.
WHITE PLAINS had a forgettable game against North Rockland, the team that beat the Tigers in extra innings of the Section 1 Class AA Softball Championship final.
The Tigers had a few days off until their game with Ursuline and they responded with an 11-4 win. Serena Gillen only allowed two hits and struck out a season-high 16.
Alexis Tighe led the offense with three hits and two RBI. Ava Ritterman added two hits and also drove in two runs. Ava Galligani and Gianna McMahon each had one hit and two RBI.
BREWSTER split a pair of games as it beat Panas (18-7), but lost to Nanuet. Emma Mariella and Kylie Dudones had two hits and three RBI apiece against Panas. Alex White and Natalie Hayes each collected three hits.
PANAS lost twice to Brewster and Byram Hills. Kenna Vogel had two hits and an RBI and Sara Bufi tripled twice and doubled against Brewster. Kiah Edwards had two hits and Lily Tomlinson singled and scored on an Ali Moyer sacrifice fly against Byram Hills.
FOX LANE is now 1-4 on the season after losses to New Rochelle, R.C. Ketcham and Mahopac.
CARMEL, YORKTOWN, HORACE GREELEY, BYRAM HILLS, OSSINING and WESTLAKE did not reply to several requests for information and comment.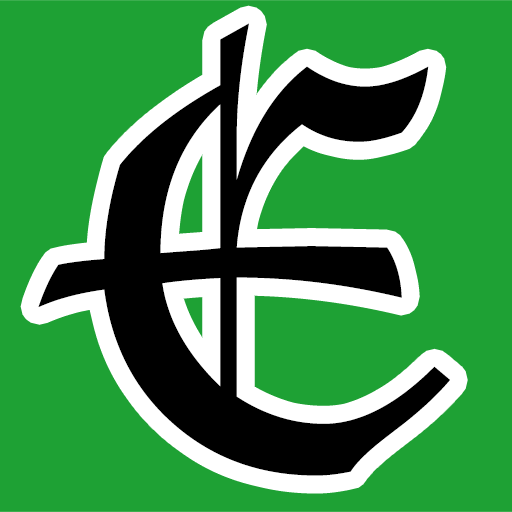 Examiner Media – Keeping you informed with professionally-reported local news, features, and sports coverage.