"V" is for Valentines for Vets at George Washington Elementary
We are part of The Trust Project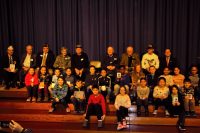 State Assemblyman David Buchwald's Valentines for Veterans program engaged several classes at George Washington Elementary School in White Plains on Feb. 7. The students designed Valentines, which were then presented to veterans visiting the school who represented the United States Army, Marines and Navy during World War II, Vietnam or peacetime.
Valentine's were also distributed to the area V.F.W. and American Legion Posts and at the Veterans Administration Hudson Valley Health Care System in Montrose. Additionally, Valentines have been sent to active duty military abroad.
The veterans visiting George Washington Elementary School (pictured here with some of the students and Assemblyman Buchwald) were: Michael Bellantoni, Chuch Cincerbeaux (a teacher at George Washington Elementary), Mauro Piccininni, Sam Riti, Peter Stone, Peter Sasko, Mike Coffee, Rod Carlson.
Rod Carlson, Viet Nam Marine combat helicopter pilot noted, "What really comes across to the kids is that there are people living right here who are veterans."