UnWined Winebar & Kitchen, Baldwin Place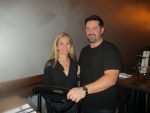 Stephanie Small of Waccabuc and her business partner, Brian Moss of Somers, opened UnWined Winebar & Kitchen, Baldwin Place on June 30.
Though their restaurant is new, wine is something they are very familiar with. They also co-own UnCorked Wines & Spirits, which is located next door to their new eatery and that was the inspiration for why the duo decided to open UnWined, Small said last week. They opened UnCorked on November 11, 2015.
"What ultimately ended up happening was just meeting the clients and the customer base here, we just realized there was a need for something new in cuisine and food in the area," Small said.
The name of the new restaurant is a play on words on the name of the partner's wine store, Small said.
Small described the restaurant's menu as "American eclectic." UnWined does not offer tapas selections, she said.  "We're not Spanish or Portuguese," Small said. "But we are really trying to adapt kind of a new menu concept for folks who want to come in and either get a small plate and enjoy some wine or have a full dining experience."
The restaurant specializes in small plates and composed dishes, which Small described as "petite entrees."
Small said "hands-down," the most popular small plate is the tiny tuna tacos. "They are done with a sushi grade tuna and avocado puree and they're done open faced" on a crispy wanton shell made in-house, she said. Another signature small plate is the caramelized pears and chorizo. "We cook that actually with a spirit that is distilled locally here in Mahopac called Kas," which a honey spiced liqueur, she explained. Kas is also used in some of the restaurant's other dishes and in some cocktails, Small said.
Two of the restaurant's signature small entrees are the pan seared scallops that are served over pureed cauliflower with some black truffle oil, crispy shallots and wild mushrooms and a five-ounce dry-aged New York strip steak with smashed potatoes, wilted arugula, lardons and chimichurri sauce.
A key to the success of the restaurant is its wine, Small said. "We have an extensive wine selection," she said. The eatery offers wine by the glass in 33 selections. "We're constantly searching for new wines," Small said. "We worked very, very, very long and hard to curate a wine list that we thought from a price standpoint would not be offensive to people."
Customers can order individual items one at a time when they desire to accompany their wine or four beers that are on tap, Small said. "The most amazing thing about this restaurant is there are no rules," she said.
UnWined Winebar and Kitchen is located in Baldwin Place in the Somers Commons Shopping Center, 80 Route 6 (next door to UnCorked Wines & Spirits). For more information, call 914-519-6190, send an e-mail to unwinedny@gmail.com or visit https://www.unwinednewyork.com. The business is also on Facebook and Instagram.