United Way Celebrates 10th Anniversary of 2-1-1 Call Center
We are part of The Trust Project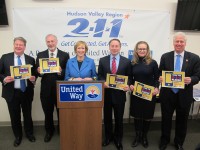 From connecting people to needed resources such as food and shelter, to serving as a lifeline during disasters like Hurricane Sandy, United Way's 2-1-1 Hudson Valley Call Center celebrated 10 years in operation last week, launching a new campaign to make it a 24-hour service. Representatives from the United Ways serving Westchester, Putnam, Rockland, Dutchess, Orange, Sullivan and Ulster  were joined by local officials to recognize this milestone and to "Take the 2-1-1 Pledge" to promote the free referral line.
"Today, we are celebrating the 10th anniversary of United Way's 2-1-1 helpline, a resource that means so much to our community," said Alana Sweeny, President and CEO of United Way Westchester and Putnam at the event. "Since 2005, the 2-1-1 Call Center in White Plains has helped nearly 400,000 callers with hundreds of thousands of service requests."
United Way's 2-1-1 is a free, confidential, multilingual information and referral helpline open 365 days a year. At the 2-1-1 call center, specialists speak with callers from throughout the area who need help answering questions related to food assistance, elder care, housing and shelters, utilities, abuse prevention, suicide, recycling regulations, foster parenting, veteran services, medical assistance and more. Currently, United Way's 2-1-1 helpline is open daily from 9 a.m. to 7 p.m.
United Way works closely with county government on several programs including those related to foster care, Earned Income Tax Credit (EITC) assistance, recycling, the Home Energy Assistance Program (HEAP) and other projects. In addition, the call center handled calls during disasters like Hurricanes Irene and Sandy as well as when storm flooding occurred in Mamaroneck and Larchmont. During Hurricane Sandy alone, more than 28,000 calls were answered by the 2-1-1 helpline.
Westchester County Executive Rob Astorino joined with Putnam County Executive MaryEllen Odell to discuss 2-1-1's impact on each county.  Peter Harckham, Assistant Director, NYS Office of Community Renewal, shared words from the governor's office.
"From help getting food on the table, to finding health care, the Hudson Valley 2-1-1 Call Center helps thousands of families and individuals connect with the services they need," said Astorino. "They're the ones to call before a situation becomes a crisis."
Michael Kaplowitz, Chair of the Westchester County Board of Legislators and Michael Piazza, Commissioner of the Putnam County Departments of Mental Health, Social Services and the Youth Bureau were recognized for their strong support of 2-1-1 over the last decade.
As part of the "2-1-1 Pledge," United Way is asking government officials to:
Post a link on their website to the Hudson Valley 2-1-1 webpage
Find ways to share information with their residents
Create a personal video to post on social media using the #UW211.
To find out more about United Way's 2-1-1 helpline visit www.hudson211.org.