Unemployment Insurance Theft Arrest
We are part of The Trust Project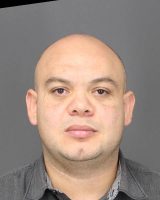 Juan Vega (DOB 5/16/78) of Greenwich, CT, was arrested Oct. 30 in an ongoing investigation into unemployment insurance benefits fraud. Vega was arraigned for filing false New York State unemployment claims in White Plains, thereby defrauding the NYS Department of Labor (DOL) and the people of New York State out of thousands of dollars in payments. The DOL initiated the investigation, enlisted Homeland Security Investigations (HSI) in New York, and referred the cases to the District Attorney's Office for this joint investigation.
Juan Vega is charged with one count of Offering a False Instrument for Filing in the First Degree, a class E felony, with intent to defraud the state.
Vega was arraigned in White Plains City Court because the fraud allegedly was committed at the NYS Unemployment Career Center on Bloomingdale Road in White Plains. He was released on his own recognizance. His next court appearance is scheduled for Nov. 16.
Vega is a seasonally employed cook who, at the time of the alleged theft, worked at the now-closed Elmwood Country Club in White Plains. The felony complaint alleges Vega arranged to receive benefits while spending much of his off-work "winter" season out of the country. HSI was able to confirm his travels. His certifications of unemployment were false because he concealed that he was actually living outside the U.S. during periods each year from February 2015 to April 2017. Vega received unemployment insurance benefits of approximately $13,165.
In connection with the same investigation, these defendants were arraigned Oct. 24, 2018: Jeremias Lara (DOB 8/25/65) of Mount Kisco, Pedro Santana (DOB 9/21/61) of Yonkers, and Ivan Vacacela (3/15/80) of Yonkers.