Tzatziki Greek Grill, Pleasantville
We are part of The Trust Project
Greek restaurants can be found across the tristate area, but Tzatziki Greek Grill in Pleasantville is something different. The newest eatery on Pleasantville's Wheeler Avenue can be described as Greek fusion with a twist.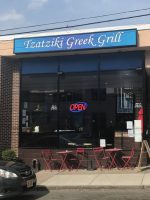 That's how manager Lena Toumaras characterizes the fare at the family-run restaurant, which opened in February and serves up dishes handed down from generations of Greek-born relatives.
Toumaras' brother Dimitri, along with their cousin Fay Nanakos and her husband George are all partners in the business. So is the restaurant's executive chef Billy Kokoronis, another cousin and a graduate of the Culinary Institute of America.
Nanakos and her husband bring years of experience to this latest venture, having run several restaurants in the metropolitan area, including diners and steakhouses. It's been a lifelong dream, Toumaras said, that they all go into this venture together.
The space, which was formerly a Chinese restaurant, was completely renovated and infused with a relaxed, rustic charm. Images of Greece's blue skies and white-washed buildings can be seen throughout the restaurant, along with plates containing figures from ancient Greece.
Toumaras said they have a passion for food and cooking.
"For us, it's like serving up everyday simple pleasures to our customers, which are monumental symbols of the dream of a better life that our parents worked so hard for," Toumaras said.
Describing the experience as "casual dining," Toumaras said the restaurant offers many of the Greek staples you would expect to find – gyros off the spit, moussaka, spanakopita and stuffed grape leaves – but there's much more.
Kokoronis and the other partners are constantly devising exciting new dishes and novel ways to make what they serve to customers more flavorful.
Some examples include the shrimp mac and cheese and hand-cut Titan Fries (seasoned French fries topped with feta, mozzarella, gyro meat and ranch dressing). The restaurant's moussaka contains grilled eggplant, zucchini and potatoes with a meat sauce and a béchamel cream sauce.
Falafel is widely featured on the menu. Patrons can enjoy it as a starter, in the form of a vegetarian burger and as one of several platter choices. Toumaras said the restaurant offers multiple fish specials, including grilled swordfish, shrimp and salmon served with lemon-seasoned potatoes. A gluten-free menu is also available.
The burgers at the Tzatziki Greek Grill are a popular item. They include The Athenian, which consists of a fig spread and feta cheese with onions and a balsamic glaze; The Santorini, topped with sautéed tomatoes, onions, feta and garlic; and The Zeus, topped with gyro, feta, French fries and tzatziki. There are close to a dozen delicious options.
A wide variety of salads are available: the traditional Greek salad, green salad, Horiatiki (otherwise known as a village salad) and Tzatziki's cranberry, walnut and feta salad.
The restaurant's homemade desserts include baklava ice cream, baklava cheesecake and baklava bread pudding with a caramel and Metaxa sauce. Honey puffs, fried pita chips and Galaktoboureko, a Greek custard in filo with honey syrup, are also on the menu.
"Everything is made to order," said Toumaras, who manages the family's other Tzatziki Greek Grill in New Rochelle. "Nothing is frozen and nothing is pre-cooked."
There's a college student special for $13 that includes a choice of gyro, chicken or pork souvlaki or falafel sandwich with French fries and choice of soda. A college ID is required to be shown.
A takeout menu is available and online ordering will soon be offered.
Tzatziki Greek Grill is located at 39 Wheeler Ave. in Pleasantville. It is open Tuesday through Thursday from 11 a.m. to 9 p.m.; Friday and Saturday from 11 a.m. to 10 p.m.; and Sunday from 12 to 8 p.m. For more information, call 914-769-6575 or visit www.tzatzikigreekgrill.com.
Colette Connolly is a copywriter and p.r. expert. She owns Connolly Communications, which is based in Bronxville, New York. Colette specializes in providing content-rich, SEO-optimized press releases, articles, newsletters, brochures, and customer success stories.