Two-Time Super Bowl MVP Manning Gives Boost for Guiding Eyes for the Blind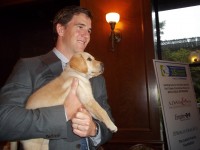 Guiding Eyes for the Blind got a big boost from the face of Big Blue.
Two-time Super Bowl MVP Eli Manning appeared at Mulino's in White Plains on Monday, May 7, as part of the kick-off to the 35th Annual Guiding Eyes for the Blind Golf Classic.
Guiding Eyes, located in Yorktown Heights and Patterson, helps pair seeing eye and guide dogs with people in need.
The two-day event features the Corcoran Cup, considered the "Masters" of blind golf, and the golf classic. Manning has attended the event for the last six years, due to his friendship with Patrick Browne, a legendary blind golfer who has won the Corcoran Cup 23 times.
"Your support makes these gifts possible," CEO William Badger said. "We've sold out six years in a row. All we had to say was Eli."
At the event, Lisa Cantwell, who is legally blind, spoke about how having a guide dog has improved her life after she fractured several bones after a fall.
"I was terrified to travel anywhere," Cantwell, whose dog is named Ogden, said. "Having a guide dog has been one of the best things to happen to me. I haven't felt this free and independent in years. Ogden has become my closest companion and a member of the family. He has really made a positive impact. Ogden is amazing."
Manning praised Guiding Eyes for all the work it has done over the years in helping people and also talked about his recent experience hosting Saturday Night Live.
"Ten minutes before the show they asked me why I wasn't nervous," Manning said. "I do live TV every Sunday. If I mess up, well I'm just a football player. It was a blast, I had a lot of fun. I'm glad I don't do it every week."
Manning said he has enjoyed seeing Guiding Eyes grow since his involvement began.
"I first did it as a favor, but the more I learned about Guiding Eyes, the more I learned about how they help people," Manning, who has a two-and-a-half-year-old King Charles terrier, said. "I was very impressed. It's a great cause."
Manning said that hosting Saturday Night Live was scarier than playing in two Super Bowls.
"The Super Bowl is not scary," Manning said. "It's where you want to be."
The Corcoran Cup will be held on June 10, while the Guiding Eyes Golf Classic will be held the following day at Mount Kisco Country Club and Fairview Country Club.
For more information on Guiding Eyes, visit guidingeyes.org.