Try and Buy Toy Store, Pleasantville
We are part of The Trust Project
At a time when big box stores are threatening small businesses across America, Try and Buy Toy Store in Pleasantville is holding its own, offering an amazingly diverse range of toys and gifts for children of all ages.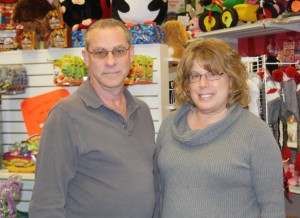 The store, owned by Barry and Linda Schwartz, has been a mainstay in Pleasantville since 1974, but it wasn't until 1993 that the couple acquired the business. At about the same time, they bought a store in Katonah, and in 1996, purchased store space in Bronxville. Since then, the Katonah and Bronxville stores have closed.
It's not surprising that Barry Schwartz, a Brooklyn native, found himself in the retail business. His father owned an audio-visual store in midtown Manhattan, and while working there as a young man, he met his wife, a sales rep for the store.
With the rapid changes taking place in the consumer electronics business during the 1980s, Schwartz's father eventually sold his business and the couple moved to Westchester. Barry Schwartz worked in a construction firm for a time, but a downturn in the industry in the early 1990s forced Schwartz to rethink his career options.
Linda Schwartz suggested that her husband consider investing in a toy business. After searching throughout much of Westchester and beyond, the couple settled on Katonah as their first choice for a store, with the purchase of the Pleasantville business coming a mere two weeks later.
To some, the rapid acquisition of two toy stores might seem like a daunting challenge, but not to this couple, who were confident that because the stores were already established they could make a go of it. It wasn't without its worries though.
"We basically had to learn the business right off the bat," noted Barry Schwartz. "And at the time, we were going into the holiday season with very little merchandise and no experience."
In spite of it all, the couple has created a healthy business in Pleasantville, learning the toy industry early on and discovering what items sold quickly and what wasn't popular with local kids. But it's still not something they take for granted. They realize that, like other industries, the toy business is constantly changing, especially due to the enormous growth of the video game industry.
"When we came into the business, the selection stopped at toys for eight-year-olds. But we've expanded our products to suit 12-, 13- and even 14-year-old kids,"  Barry Schwartz said, referring to the store's growing selection of products in almost every category of toy. The couple often finds new and fascinating toys at regional trade fairs where they test the products before purchasing.
Selecting the appropriate toys for their business is their forte. They provide excellent service, which includes free gift wrapping and a very knowledgeable staff.  Their loyalty program is another staple, providing customers who spend $750 worth of goods with discounts on future purchases.
Despite the changing economy and the cultural shifts in society that point to instant gratification, the couple still believe that toys will be around for years to come.
"Kids learn through toys a lot more than we realize," said Linda Schwartz. "Video games just don't encourage that same kind of imagination."
To discover some of the great toys that are sold at Try and Buy, visit the store at 45 Washington Ave. or find out more at www.tryandbuytoys.com or call 914-769-299
Colette Connolly is a copywriter and p.r. expert. She owns Connolly Communications, which is based in Bronxville, New York. Colette specializes in providing content-rich, SEO-optimized press releases, articles, newsletters, brochures, and customer success stories.