Town Board and Merchants Discuss King Street Improvements
We are part of The Trust Project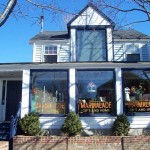 New Castle officials are moving ahead with plans for infrastructure improvements on lower King Street that some merchants fear could put them out of business.
The town board last week discussed replacing a sewer line and a water line that originates on South Greeley Avenue and moves onto lower King String Street in downtown Chappaqua. The project would also include new sidewalks and realigning parking spaces on the street.
Business owners dealing with a still sluggish economy and the two-year replacement of the Route 120 bridge that was completed early last month expressed their opposition to the move at the Jan. 17 town board work session.
"We don't want to have this part of lower King Street not have a sewer line," Supervisor Susan Carpenter said. "We don't do this lightly. We have a responsibility."
While the town board has yet to announce when the work will begin, it hopes to start in the summer. It is expected the project will last six to nine months, including the planning and bidding process, and will cost $645,000. Money will come from the town's capital budget.
"We want to do this so it causes the least disruption to the town and allows business to continue," Carpenter said. "It would be great if the streetscape was all fixed and the sewer line didn't need repairs, but that isn't the case."
Cindy Lupica, owner of Marmalade, a gift shop at 29 King St., said she is worried the work will have a negative impact on her business. Repairs may discourage customers, which prompted Lupica to ask the town board to postpone the project.
"Christmas was not great and January has been horrendous," Lupica said. "Residents are angry about the traffic and congestion. My business is suffering because all these people are disenchanted. Give us a chance to get some traction."
Lupica said she'd rather have a shabby sidewalk than endure at least several months of construction work that promises to hold down foot traffic.
Carpenter said that while the town sympathizes with local merchants, it will make sure stores are accessible.
"It would be great to wait until the economic recession is over," Carpenter said. "But we worry about whether the infrastructure will hold. If we have a broken water or sewer line, people will really be hurt."
Lupica accused the town board of being out of touch with how much downtown businesses are struggling.
"I don't think you guys have realized how much you have eroded our customer base," Lupica said. "You're not going to have any merchants left. We've had three years of our parking lot being disrupted. Can't you wait a year?"
During last week's meeting Lupica read a letter from Vinny Milazzo, owner of the Village Market, which also raised opposition to the plan.
The town board will meet with other merchants to get their thoughts on the proposal before moving forward. The board has scheduled a work session for tonight (Tuesday) for 7:30 p.m. at town hall to further discuss the project. The work session will precede the regular board meeting.