Top Italian Student Hails From White Plains
We are part of The Trust Project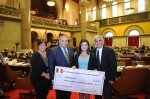 One of the top Italian-American students in the state hails from right here in White Plains.
Gina Falisi, a student of Maria Regina High School, is a recipient of the 2012 New York Conference of the Italian-American State Legislators Scholarship. Each year, the Italian-American State Legislators scholarship is given to students who have demonstrated excellence in scholastic achievement. The scholarship totals $1500.
"I am very pleased to present Gina Falisi with this year's New York Conference of Italian-American State Legislators scholarship," Assemblyman Robert Castelli (R-Goldens Bridge) said. "Gina ranked in the top 1 percent of her high school graduating class while also being a varsity tennis player, member of student council and a member of the Italian Club. She is a shining example of today's young people and I wish her all the best."
Falisi, who was the salutatorian of her class, will be attending Stony Brook University, where she hopes to major in psychology and pursue a career as a nurse practitioner. She also received a Presidential Scholarship from Stony Brook.
Falisi was first recommended by Castelli from a pool of dozens of applicants to his office, and later selected by the conference chairman, Senator Joseph Griffo, from amongst a pool of over 100 applicants recommended by Assembly members and senators from around the state. Falisi said she was grateful for the scholarship
"I was trying to find scholarships wherever I could," Falisi, whose sister was the recipient of the same scholarship last year, said.
The scholarship recipient said she has always been proud of her Italian heritage and she said almost started crying at the ceremony, which featured Italian singers, dancers, and speakers. Falisi said she wants to be a nurse practitioner because she loves being with people.
"I know that I want to be in that atmosphere," Falisi said. "I have always loved science. Being a doctor didn't appeal to me for some reason."
Falisi said she is looking at more scholarships, knowing she will have to pay for graduate school in the future.
"I don't want to take out too many loans, it puts too much of a burden," Falisi said. "I have a large family and we go to parochial school."