Tobi Asian Bistro, Thornwood
We are part of The Trust Project
There's a new Asian bistro in the Thornwood Town Center and its owners, Sammie and George Li, are excited to share the restaurant's unique cuisine with the community.
Tobi Asian Bistro, a 130-seat restaurant which officially opened its doors Oct. 1 and celebrated an Oct. 7 grand opening, is similar in many ways to the high-quality fare the couple has been serving at Tengda Asian Bistro in Katonah for the past decade.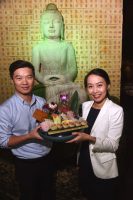 The restaurant, which takes its name from the Japanese word "tobi," meaning to fly, specializes in sushi and hibachi cuisine.
The kitchen is led by head chef Felix Kam, who has 25 years' experience, including five years at the well-known Edo Japanese Steak House in Port Chester. George Li, a trained sushi chef, will lend a hand if needed, but spends most of his time overseeing the business.
Customers are guaranteed the full hibachi experience when they visit Tobi Asian Bistro, said Sammie Li, who manages the front-of-the-house operations. Only the best meat and seafood is served, including chicken tenderloin, fresh scallops and black Angus steak.
"We believe delicious food is all about fresh ingredients and fantastic cooking skills," said Sammie Li. "And at Tobi Asian Bistro, we have them all."
The new hibachi dinner menu includes tobi clear soup, salad with homemade ginger dressing, a flaming shrimp appetizer, vegetables, noodles, and white or fried rice.
Diners can choose from a number of solo meat and seafood dishes or a combination of both from the hibachi menu. Popular combinations include chicken tenderloin and shrimp; filet mignon and shrimp; shrimp and scallop; the Seafood Triple, which consists of lobster, shrimp and scallop; and the Tobi Triple, which includes Angus steak, chicken and shrimp.
There is also a children's hibachi menu for kids 10 and under. Side orders of fried rice or noodles, shrimp, scallop, steak or chicken are also available.
Included in the menu are some of the sushi dishes that have been popular at the Katonah restaurant, such as appetizers blackened salmon carpaccio and the Tobi Tartar (spicy crunchy tuna or salmon, guacamole and balsamic vinegar).
Other tasty appetizers from Tobi's Sushi Bar are the Yellowtail Jalapeno (cilantro, yuzu dressing and chili sauce); the tuna dumpling (spicy blue crab with mango and tobiko wrapped with fresh tuna); and the sushi taco (tuna, salmon or yellowtail, onion, jalapeno, tomato and mustard soy sauce).
Various platters are also available at the sushi bar. Those include the spicy roll platter, the veggie roll platter, the Imperial Sashimi, Omakase, which is the chef's daily inspiration, in addition to other delicious options.
Tobi's special main course dishes include the crispy duck, pan-seared tuna, grilled shichimi filet mignon, XO Chilean sea bass and Thai Red Snapper, among others.
Regular appetizers available in addition to hand rolls, the chef's special rolls and Poke bowls.
There's a well-stocked bar at Tobi Asian Bistro. It includes a variety of French, Italian and Spanish wines along with spirits and beer.
"We really care about the details and believe in serving our customers the way we like to be treated ourselves," Sammie Li said.
A catering service and takeout is available at Tobi Asian Bistro. There is no delivery service at this time.
The restaurant is located in the Thornwood Town Center at 1008 Broadway in Thornwood. The restaurant is open Monday through Thursday from 11:30 a.m. to 10 p.m. and on Friday and Saturday until 11 p.m. Monday through Saturday there is no service from 3 to 5 p.m. On Sunday, the hours are 3 to 10 p.m. Reservations can be made by calling 914-495-3365. For more information, visit www.tobiasianbistro.com.
Colette Connolly is a copywriter and p.r. expert. She owns Connolly Communications, which is based in Bronxville, New York. Colette specializes in providing content-rich, SEO-optimized press releases, articles, newsletters, brochures, and customer success stories.