Times Square Hero to Run for 19th Congressional District
We are part of The Trust Project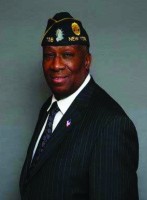 By Martin Wilbur
The street vendor who helped thwart a May 1, 2010, Times Square terrorist scare officially announced Monday morning he is joining the race for the Democratic nomination in the 19th Congressional District.
Duane Jackson, an 18-year Village of Buchanan resident, is the fourth Democrat to join the fray in hopes of taking back the seat from freshman Republican Rep. Nan Hayworth. The currently configured 19th Congressional District covers parts of five counties and includes northern Westchester and all of Putnam.
Jackson, 59, said while his three Democratic rivals lean left and Hayworth is too far to the right and is out of touch with the mainstream, he is the most independent and centrist voice of those who are running for the seat.
"I applaud all of them but Duane Jackson is the guy to beat Nan Hayworth and bring some common sense to Washington but also bring the 19th district together, whether it's from Goshen to Ossining or from Middletown to Mount Kisco," Jackson said in front of Buchanan Village Hall where he made his announcement. "I believe my life experience in dealing with people and listening–listening–to the words of the people in the community (will) find ways to bring us together both in business, in education."
He will be facing Cortlandt Councilman Dr. Richard Becker, Wappingers Falls Mayor Matt Alexander and Tuxedo Park Mayor Tom Wilson for the nomination. In early February, Jackson took part in a Peekskill Democratic candidates' forum signaling his intention to run for the seat.
Jackson worked as a city planner in Washington, D.C. and as a planner for the New York City Board of Education for 15 years combined. The Vietnam War veteran also is a former deputy director of the city's Housing Preservation and Development and has been a Disabled American Veterans member for 20 years. He lives with his wife, Linda, and their two children.
Jackson said following the Times Square incident, where he alerted New York City police of a suspicious car that had been strapped with explosives, he took part in a 10-week FBI program that emphasized more community involvement to protect the country. It was that experience that helped him decide to run for the House of Representatives, he said.
Among the issues Jackson plans to fight for is ending the war in Afghanistan, bringing jobs back to the country, helping the education system and to make certain that Social Security and Medicare aren't privatized. He also criticized Hayworth for trying to appease both the GOP base and the majority of her constituents by landing on both sides of the abortion and contraception debate.
He said he can also differentiate himself from his competitors because he can appeal to Democrats, Republicans and independents.
"I can certainly bring in new Democratic voters, new independent voters," Jackson said. "I've got people who are Republicans who are switching their voting registration so they can vote for me in the primary because they believe, as I do, that we need to change the way we do things in Washington and we don't do that by electing the same type of people."
Buchanan Mayor Sean Murray, who attended the press conference, said he liked the way that Jackson has kept an open mind on Indian Point, a vital economic resource for the village, rather than reciting the Democratic leadership's lines to close the facility, as the party's other candidates have stated.
"I like his ideas, I like his willingness to do research first," Murray said.
Fellow Disabled American Veteran Nelson Braswell, who has known Jackson for close to 20 years, said his best attribute is his honesty. "He's a very, very good person, he's an honest man, he's educated," Braswell said. "He really believes in what he says, and as we know in politics that's really the first step."