Tigers Seek to Make Strides in 2013 White Plains Football Preview
We are part of The Trust Project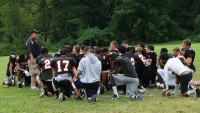 The White Plains High School Football Team officially opened training camp, on Monday, Aug. 19.  Head Coach Michael "Skip" Stevens will begin his ninth season at the helm when the Tigers open their 2013 campaign with their Home Opener against Clarkstown North, on Saturday, Sept. 7, at 7 p.m.
The Tigers are seeking to rectify a very disappointing season last year, while recording only one win (1-7) and not making the Section 1 Playoffs. "So far this week in camp there has been nothing but challenges going on and it is led by the seniors. Obviously they do not want to go through what they went through last season," stated Tigers Head Coach Stevens.
The Tigers do have 21 seniors returning this season, which gives the underclassmen much support. However, the Tigers offensive line has only two players returning this season who saw sufficient playing time last year.
Senior linesman Anthony Tocto, who is 6'5" and weighs 315 pounds and Josu Trevejo who is 5' 7" and weighs 250 pounds will be anchoring the line this season. Nonetheless, Stevens is seeking some underclassmen to step-up and fill the void on the offensive line.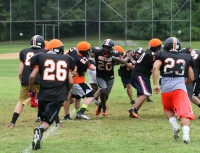 Tigers' senior quarterback Cameron Crabbe, also played right-field on the Tigers baseball team that won the League Title last season. Crabbe has lost 15 pounds since baseball season in order to increase his agility and speed. He is a duel threat quarterback who is looking to run more this season.  "I thought during the last baseball season we brought the sense of winning back to the high school by winning the League Title. We want to do the same thing with the football season this year," declared Crabbe.
The Tigers will be led in the backfield by senior running back Chris Jordan. Chris has gotten bigger, stronger and faster this year. He has also taken on more of a vocal leader role which is great for the team," said Stevens.
Senior Tight-end/defensive end Lukas Repetti was also a member of the Tigers baseball team last season with Crabbe. Repetti was an ace pitcher on the Tigers staff, who has also been playing varsity football since his sophomore year. "Everyone is excited about the football season. We had an off year last season, even though we felt we were in every game, the results were not what we wanted," expressed Repetti.
Repetti playing tight-end on offense will share receptions with wide receiver senior Matt Berube who sustained a wrist injury last season but returns healthy this year.
Berube will be flanked on the other side of the line by senior wide receiver Marshon Morris, whose leaping ability is well known in the basketball spectrum.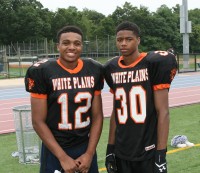 On the defense, the Tigers remain strong in the linebacker and secondary positions but their rushers will be young. Senior Daniel Bonner will guide junior Willie Ahearn at the linebacker positions, while in the secondary Jordan and Crabbe will be complemented by Morris and Berube.
The Tigers understand quite well that the way to put a losing 1-7 season behind you is to have an impact victory immediately at the start of the season. Clarkstown North on Saturday, Sept. 7, at White Plains High School will extend that challenge.
"They gave us a hard time the last few times we played them because we were not as disciplined as we needed to be at the time,' revealed Stevens. "Regardless we have to make a statement right away, the game will be home in White Plains and we have to make an impact right away."