Tigers Pay Solemn Tribute to Fallen Comrade, Marcus Austin – Killed Jan. 22
We are part of The Trust Project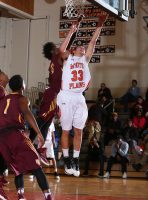 On Thursday, Jan. 26, as the National Anthem played for the start of the White Plains High School versus Mt. Vernon High School basketball game, the gate for admission was temporally halted as the crowd stood silently for the Anthem.
The Harry Jefferson Gym was already packed for the game but the line for admission still spilled into the hallway outside the gym. Might the standing room only crowd have been present anyway at White Plains High School for a game against these two longtime Section 1 rivals? Possibly, Yes.
However, assuring the enormous attendance was a Twitter message sent by White Plains Head Coach Spencer Mayfield the day prior to the game announcing that the entrance fee of $3 to the game would be donated to support the son of slain Tigers basketball legend Markus Austin.
On Sunday, Jan. 22, Austin, 33 years old, the Tigers All-Time Leading Scorer, was killed in a senseless shooting in Montpelier, Vermont. Austin settled in Vermont after playing professional basketball in the former American Basketball Association with the now defunct Vermont Frost Waves. He worked as a Behavioral Interventionist at Washington County Mental Health and as a Mental Health Specialist at the Vermont Psychiatric Care Hospital in Berlin, Vermont.
Austin played for Mayfield before graduating from WPHS in 2001 and earning a scholarship to Eastern Michigan University. During his sophomore year at WPHS, Austin led the Tigers to the 1999 New York State Championship. He was a 1,000-point scorer for the Tigers and scored 1,425 points during his four years playing at Eastern Michigan.
"He was probably the purest shooter that I have ever coached. When he shot the ball in the basket the net never moved," commented Mayfield, trying to hold his emotions in check. With the game-day admission fee and donations, the White Plains High School Basketball community collected over $1800, in a mere few hours, which was contributed to the Austin Family to help support the late Markus Austin's son Marquis, who will be five years old on February 18.
"The money certainly cannot make it better but if we can help his young son then we have to try," stated Mayfield, who also coached Markus's younger brother Devon, who sat in the stands at the game with his nephew Marquis.
Devon Austin was an All-County player for the Tigers as well, before graduating in 2005 and having a standout career at Manhattan College. The younger Austin played professional basketball in Europe after staring for the Jaspers. In memory of Markus Austin his Tigers jersey number 25, will never be worn again by a White Plains High School basketball player.
Services will be held for Markus Austin, on Wednesday, Feb. 1, at Union Baptist Church, located at 31 Manhattan Avenue, White Plains. Visitation will be from 9 to 11 a.m. with a Funeral Service beginning at 11:00 a.m.