Tigers Losses to Mt. Vernon and Williamsport Contribute to Lackluster Season
We are part of The Trust Project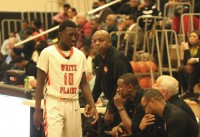 White Plains Head Basketball Coach Spencer Mayfield sat in his office, on Wednesday, Jan. 21 contemplating how tough a season it has been for his team.
The Tigers had just lost to Mt. Vernon High School, 58-45, in their home gym, in a game that fell apart for them in the third quarter.
Mayfield was aware that this season would be somewhat of a rebuilding year having lost Mike DeMello, Justin Tapper, Rexler Noel, Marshon Morris, Chris Jordan and Cameron Crabbe to graduation. However, he was not truly aware how much of a rebuilding process it would be until sophomore forward Jordan Tucker announced that he would be transferring to Stepinac High School, in August.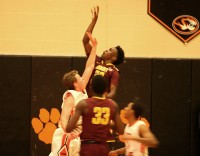 Mayfield got help when he picked up a valuable asset in junior guard Luis Cartagena, who transferred from Yorktown High School to White Plains, after moving here this summer. However, as well as Cartagena has played this season, he needs his supporting cast of six juniors and four seniors to complement him.
Although, the Tigers (3-11, 1-4 Section 1 AA) were defeated by the Knights (11-3, 6-0 AA), they played a much more competitive game then they did in their last contest, at Mt. Vernon. The Tigers were blown out of the Mt. Vernon gym by 44 points while only mustering 24 points on offense in a shocking, 68-24, debacle, on January 6.
The Tigers not only played a better game this time against the Knights, while losing 58-45. Mayfield admitted that if his team could play the way they played in the first half for the rest of the season, he would take it. "Yes, if we could play like the first half; if we could bottle that first half we could play with anybody," said Mayfield.
The Knights scored the first 10 points of the game but the Tigers responded to end the first quarter 12-5. Then the Tigers stepped up to unexpectedly outscore the Knights, 19-13, in the second quarter, to end the half only one point down, 25-24.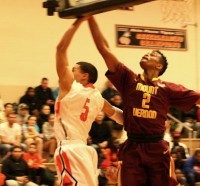 It was tireless rebounding and a strong defensive effort by senior forward Kevin Trapp that helped the Tigers maintain momentum in the first half. Trapp, in fact, played solid throughout the game in the paint, while fighting for position and rebounds with some of the best front-court players in Section 1. "I think it is the coaches. The coaches have really instilled in me to play hard, rebound and box-out at all times in the game," said Trapp.
Trapp, who scored seven points in the game, hung tough under the hoop with the likes of Knights' Marco Morency, who had 18 points and 12 rebounds, Noah Morgan, 10 points and five rebounds and Greg Calixte, six points and six rebounds in the game.
"Trapp is an undersized power forward who has been giving us everything that he has all season. Pound for pound he has been holding his own with a lot of bigger players and has done a good job," explained Mayfield.
Cartagena did not have his best game against the Knights in the rematch, while scoring a mere nine points with five of those points coming on free throws. The steadfast junior seemed to let the Knights defenders take him out of his game, while driving to the hoop with authority but forcing shots.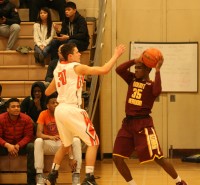 However, it has been Cartagena, who has been the most consistent player for the Tigers through their struggles this season. "Luis is doing pretty well. He is learning to play point guard. He has a lot of athletic skill and ability, he just needs to learn how to play the position a little better," said Mayfield.
In order for Cartagena to implement his entire game repertoire, he needs players like junior guard Cheroqui Layne to play up to par. Layne, a quick strong guard, who can drive to the hoop with power, did not play his game against Mt. Vernon. The result was that Layne did not score in the game.
Conversely, a pleasant surprise for Mayfield this season has been the progression of junior guard Lamar Noel, who has been responding on both sides of the court. Noel, the younger brother of last year's standout forward Rexler Noel, is a speedy guard who handles the ball well and is very aggressive on offense and defense.
Noel with juniors Juan Diego Vargas and Taylor Nussbaum have displayed that they can be an effective supporting cast to Cartagena and seniors Robert Walker, Nijee Lewis-Jones and Trapp. However, for the Tigers to at least win their remaining three games in the regular season, they need Layne to execute his strength inside and drive to the hoop.
The Tigers season took a tumble when they lost six consecutive games between December 20 and January 10. After losing to Mt. Vernon for the second time this year, the Tigers took their annual trip to Williamsport, Pennsylvania, on Saturday, Jan. 24, where they were beaten by the Millionaires, 59-49.
The Tigers have three games remaining this season, including two Section 1 AA contest. They play Scarsdale at WPHS, on Tuesday, Feb. 3, and then they travel to Mamaroneck to play the neighboring Tigers, on Thursday, Feb. 5.
Mayfield would be the first to admit that the White Plains Tigers season has been a disappointment this year. Their record remains 3-11 overall and 1-4 in Section 1 AA. Even if the playoffs will have to wait until next season, if they could win their remaining three games, it may give Mayfield and the Tigers a better feeling regarding how this season came to pass.