Tigers Injuries and Mistakes Hurt Young Softball Team
We are part of The Trust Project
White Plains High School's head softball coach, Ted O'Donnell, was quite aware that this season would be an uphill battle with growing pains, after graduating six seniors last year and implementing a completely new infield to start the season.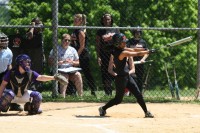 However, what O'Donnell was not counting on this season was that he would also lose junior captain first baseman Melissa Iarocci and freshman centerfielder Sarah Carrier to injury.
Iarocci suffered a pulled hamstring, while stretching on a defensive play at first base in the Tigers' 4-1 loss to Clarkstown South High School on Monday, May 7. "Hopefully, I will return next week, I did it on a stretch. I hope to be back soon," said Iarocci, who is also the Tigers cleanup hitter.
Carrier's injury is probably the more serious of the two injured Tigers. The freshman centerfielder suffered a concussion during a collision at first base, while trying to beat-out a ground ball, against Mamaroneck High School on Thursday, May 10.
Therefore, O'Donnell is juggling players to fill positions and to maintain a strong line-up at the plate. Nonetheless, the Tigers have managed to maintain a 7-8 record this season, after losing to Clarkstown North High School, 4-1, on Saturday, May 12.
Errors were the enemy of the Tigers against Clarkstown North (5-9). The Tigers committed eight errors in the game and three errors in the fifth inning. Tigers sophomore pitcher Danielle Sputo pitched a four-hitter against the Rams, with only two walks. But the Tigers offense could not overcome their defensive errors. Sputo also went 2 for 4 at the plate with a double and a single in the game.
Nevertheless, the Tigers' other enemy in their non-conference loss to Clarkstown North was Rams pitcher Lauren Strum. The Rams ace pitched a complete game, while giving up only five hits and striking out eight Tigers. "Probably the best performance that Lauren has had all season," evaluated Rams first-year Head Coach Mike Barbetto.
Furthermore, having a negative impact on the Tigers roster in the Clarkstown North game was that starting leftfielder Austin Bogart was not with the team due to a death in her family.
Bogart was attending memorial services for her late grandfather. After the game the entire Tigers team joined Bogart at McMahon's Funeral Home in White Plains to pay their respects to their teammate and the Bogart family.
Clarkstown South (11-2) is the ninth-ranked team in New York State. The Tigers played well against the upstart Vikings to begin the week of May 7, but they lost, 4-1. Clarkstown South pitcher Sam McDonald had a double, a home run and two RBIs at the plate.
McDonald also struck out eight Tigers from the mound in five innings for the win. Tigers captain shortstop Tayler Falvey is still slugging, as she had a homerun in the losing effort. On Thursday, May 10, the Tigers lost another close game to neighboring Mamaroneck High School, 3-1, in eight innings. Sputo pitched a four-hit gem, walking only two hitters and striking out nine batters, but the Tigers could not hang on for the win.
"We just keep making mistakes that are losing close games for us," commented O'Donnell. "We just have to stay positive and not let this get us down. I am trying to stay positive with them, so they stay positive."
The Tigers did stay positive and beat Mt. Vernon High School, 19-0, the next day on Friday, May 11, in Mt. Vernon. This was the fourth straight loss for the Knights, recording only four wins against 11 losses this season.
Sputo pitched a two-hit shut-out against the Knights. The Tigers sophomore also stunned Mt. Vernon with her bat, hitting two doubles and a homerun with seven RBIs in the game.
"Danielle [Sputo] led the team with a bases loaded double scoring three runs and a homerun over the left field fence," admired O'Donnell.
"All I can say is that we are still a work in progress," concluded the Tigers Head Coach, in the midst of his 16th season at the helm.