Tigers Ghilardi's 16 points and 16 Rebounds Not Enough to Beat Ursuline
We are part of The Trust Project
The Official Section 1 Playoff Brackets will be announced on Monday, Feb. 11. The qualifications for achieving postseason status in Section 1 High School Basketball includes: that a team must win at least 25 percent of their overall schedule and league games.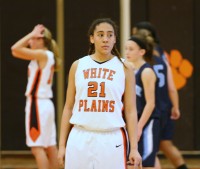 Consequentially, the White Plains High School Women's Basketball Team has a record of 1-15, with only two games remaining in the season, after their loss to The Ursuline School, on Thursday, Jan.31.  
Therefore, it would be mathematically impossible for the 2012-13 Lady Tigers to win 25 percent of their games and make the Section 1 Playoffs this year.
Unfortunately, the Lady Tigers hard fought but disappointing season will conclude after Mamaroneck High School and Mt. Vernon High School come to town, on Wednesday, Feb. 6 and Friday, Feb. 8, respectively. Both games will commence at 4:15 p.m. in the Harry Jefferson Gym.
It is always a competitive contest when the Ursuline Koalas visit WPHS, to take on the Tigers. It was no different on the last day of January 2013, despite the disparity in the two teams' records.
Ursuline is in seventh place as the playoffs approach with a record of, 11-5 overall, 9-3 AA. In contrast, the White Plains Lady Tigers are in last place in Section 1 AA with a 1-15 record.
The first quarter of the game ended in a 10-10 tie with the Tigers defense sustaining the Koalas offensive charge. Nonetheless, Ursuline outscored the Tigers 20-11 in the second half to take a 30-21 lead at halftime. Tigers forward Alyssa Ghilardi had 12 of the Tigers 21 points in the first half.
It was the battle of the "Alyssa-s" in the White Plains versus Ursuline game. Koalas' senior forward Alyssa Lawrence scored a game-high 17 points, while Tigers senior forward Alyssa Ghilardi had a double-double with an impressive 16 points and 16 rebounds.
Ghilardi undoubtedly had one of the best games of her Tigers career, but it was not enough to win her last high school game against Ursuline. "I just listen to my assistant coach Amy (Ferraro) who tells me no matter win or lose when you look back you are going to wish that you left everything on the court," stated Ghilardi.
The Tigers were plagued again in the Ursuline game, by what has stifled them all season. They scored only 10 points in each quarter except for the second quarter when they hit the 11-point mark.
Tigers' junior guard Tess D'Arcy scored eight points in the game before a flagrant foul by Koalas Lindsey Bettke finished her night with an injury. However, D'Arcy has recovered and will be ready for Mamaroneck, on Wednesday at WPHS.
Tigers Head Coach Liz Flooks has made a player of sophomore forward Shannon Lynch this season, whose mother is Maura Lynch, the Head Coach of Good Council Academy.
However even with Lynch's improved play and the tough post-play of sophomore center Isabella Lacarbonara added to the improvement of sophomore guard Danielle Reggio and the feistiness of Ghilardi, the Tigers still did not have enough scoring to compete in Section 1 AA this season.
"Seeing Alyssa post-up strong, Isabella coming out fighting and Shannon being tough and playing good defense and even the freshman Katie (Avezzano) and Kaleigh (D'Arcy) are playing well, that is all you can ask for from your team," explained Flooks.
However, next season when the D'Arcy sisters Tess and Kaleigh team with Lynch, Lacarbonara, Reggio and a more experienced Katie Avezzano, the Tigers will be ready to contend in Section 1 AA.
The key will be for Flooks to find a point guard in either the younger D'Arcy or Avezzano, who both will be sophomores next season. Then Lynch and Tess D'Arcy can get in position to shoot, while Lacarbonara dominates the post during her junior year.
It has been an extremely tough season for the Lady Tigers and Flooks in her first season as a Head Coach. However, the Lady Tigers still have two games remaining this season and both games are at home.
With the Lady Tigers hungry to prove their worth this season, Mamaroneck at 3-13, on Wednesday and Mt Vernon at 8-8 on Friday are both potential victims to underdog White Plains.
Of course, 3-13 will not be enough for the Tigers to make the Section 1 Playoffs. But those two wins will certainly give seniors Ghilardi, Lily Abrue and Nancy Davis a nice send-off and ready the Lady Tigers for 2013-14.